Crocodile Oil Reviews of Health Benefit & Skin Care
What is crocodile oil? What are the health benefits? 什么是鳄鱼油?
Crocodile oil is derived from the fatty tissues of the reptile. Crocodile oil has many great health benefits because it contains lots of naturally occurring ingredients that are beneficial to skin and our health:- Omega 3, 6 and 9, Vitamins A and E, linoleic acid and oleic acid, etc. These reptiles have one of nature's most powerful immune system. (aka 鳄鱼油) Many users swear by crocodile oils' healing powers and treatment benefits, as you can see from the numerous reviews from users in Singapore, Malaysia, Indonesia, Thailand, China, Taiwan, South Korea, Mexico, Madagascar and parts of Africa. This traditional remedy is fast becoming recognized and sought after in other parts of the world. It is highly sought after by the Chinese in mainland China, Taiwan, and Hong Kong. There are facial cream and facial masks using crocodile oils now, widely popular with young adults now. You may be surprised there is actually an old traditional crocodile farm in Singapore supplying medicated oils locally and exporting this high-quality medication worldwide.
Crocodile oil benefits are:-
moisture and nourish, soften skin
lighten wrinkles, facial imperfection
protects and renew skin firmness
strengthen and nourish your hair growth
Pets and animals remedy
Eczema relief
Let us review this old age secret healing crocodile balm that is a traditional medicine of Mexico, Africa, Madagascar, and south-east Asia.
1. Crocodile oil moisturizes and Soften Dry Skin
Crocodile oil ingredients are rich in anti-oxidants and have great skincare benefits that treat or manage eczema, irritation, psoriasis, and skin inflammation. These rich antioxidants help in moisturizing and cleansing our skin and have anti-aging benefits. The oil heals, nourish, and softens dry, chapped or cracked skin. Crocodile balm or oil also moisturizes dry, crackly lips so use it on those precious lips and keep them moist.
How do I use crocodile oil for face, acne and soften my skin?
You can follow these steps for daily routines for using crocodile oil on your face and dry skin zone.
Dip a few drops of crocodile oil on your fingers. (Not too much as the crocodile oil is rich and thick)
Rub them your face or skin zone that needs care
Massage on the skin for a few minutes.
2. Lighten Wrinkles, Sunspots, Freckles, Eyebags, etc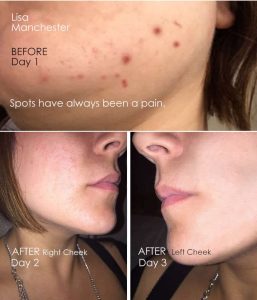 There are various user reviews on how crocodile oil has helped lighten and reduce the impact of facial problems. It helps to reduce wrinkles, sun spots, dark spots, freckles, eye bags, dark eye circles or acne scars. Regular users have pointed out that their skin is more youthful and elastic after prolong using a few drops of oil daily. Many middle-aged people and the elderly in Asia also use crocodile oil to lighten their skin tones and reduce visible marks on their faces.  
3. Skin renewal and rejuvenation- adding firmness, elasticity
The natural ingredients help in skin rejuvenation and renewal and add elasticity and firmness, radiance and smoothness, and whitening effect to your skin. These have been particularly potent for middle-aged users in tightening their facial skin.
Many senior citizens in Singapore and South East Asia swears by crocodile oil, using it on their skin for anti-aging renewal of their skin.
Sun Protection and Therapeutic oil
Crocodile oil works well as a natural sunblock as it helps to diffuse UV ultraviolet rays and protects the skin against sun damage. It helps to remove yellow freckles damaged from the sun. It works well as a therapeutic massage and carminative oil. The smell also has the added bonus of being a mosquito insect and bug repellent.
Reduce skin redness, heals wounds and irritation
Omega 3, 6 and 9 and fatty acids found in crocodile oil are key in reducing redness in sensitive and damaged skins. The oil has strong anti-inflammatory properties and a high content of oleic acid. Oleic acid is a key component in cell regeneration. Studies have shown that it improves and accelerates the wound-healing process, as well as lessen the appearance of scars.
Patients who are bedridden may develop bedsores and skin lesions. Caretakers can apply some crocodile oils to assist in healing bedside wounds.
It has been found that crocodile oil helps to heal burns, scalds, sunburn, cuts, abrasions, frostbite, cold sores, insect bites, stings, beriberi, irritated and injured skin. An additional benefit is that it helps to reduce itching symptoms.
4. Moisturizes and nourish your hair
Some users have dripped a few drops of oil into their hair to moisture as part of their hair treatment, to enhance the hair health. The richness of crocodile oil helps improve the textile and strengthen weak hair follicles.
You can apply the oil directly on the hair to strengthen the hair, or on the hair scalp and follicle to increase the growth and strength.
How do I use crocodile oil for hair growth?
These are the steps for daily routine for using crocodile oil for hair growth.
Dip a few drops of crocodile oil on your fingers.
Rub them on the hair scalp directly.
Massage on the scalp for a few minutes.
Drip a few drops daily to rub into your hair will strengthen and improve your hair!
5. Crocodile Oil for Pets and animals remedy
There are a few devoted animal lovers who do use crocodile oil for a remedy for their pet cats, dogs, horses, and other animals. They apply them to their pets' fur, as we apply on our own hair to strengthen and give them a glow. Beyond medicated oils, some pet owners have turned to crocodile meat as it is lean and full of nourishing minerals and nutrients for their animals.
6. Eczema Relief
Many eczema sufferers have used crocodile oil as a form of relief for their painful skin conditions. Crocodile oil is naturally anti-inflammatory and anti-bacterial, so it will help to combat redness and inflamed eczema skin. More importantly, it helps to nourish the underlying skin cell while relieving the painful or itchy outer skin.
Why does pure crocodile oil smell?
You may hate the strong musk smell of crocodile oil and reluctant to apply on your skin and hair! Pure crocodile oil has a distinct strong musk smell that may smell foul to many. This is natural and due to the organic smell of the crocodile. As these are natural products and differ from batch to batch due to different diet and season, each batch of crocodile oil may smell differently. Please ensure you get only from trusted sources and renowned brands so that you only get pure, authentic crocodile oil.
What is Emu Oil and is it similar to Crocodile oil?
Emu oil comes from the emu bird in Australia and has been used for more than 40,000 years by the indigenous Australians (the Aboriginal Australians) Emu oil contains many essential fatty acids that can be found in fish oils:- Omega 3, Omega 6 and Omega 9. Emu is also rich in vitamin A and other beneficial compounds such as carotenoids, flavones, polyphenols, tocopherol, and phospholipids. Emu oil benefits and uses
Heal wounds and ease the pain of cuts, bruises
Rejuvenate and moistures aging or poor skin.
Treatment of skin conditions such as shingles, rosacea, hypopigmentation, alopecia etc.
Antioxidant and anti-inflammatory for conditions such as arthritis, bone losses, inflammation etc.
Insects repellant
Reduce pain and sensitivity of breastfeeding
Many users of emu oil and crocodile oil have remarked on the similar benefits to these two animals' oils. Perhaps due to diet and their environment, and the heavy presence of Omegas in their diet that leads to the rich nourishing oils made from their fats. Crocodile oil does get more recommendations as the benefits seem more long-lasting and protective sheen over the skin and hair.
Why is Singapore Crocodile Oil so popular?  新加坡鳄鱼油
Crocodiles are not hunted or killed just for their oils. This is wasteful and not ethical too. Crocodile oil manufactured in Singapore are sourced ethically and do not harvest them just for the oil.
Crocodile farms have to adhere to CITES international conventions to protect wildlife. They breed these reptiles for their meat and skin, while fats are discarded as a waste product.
The farm takes the unwanted, discarded fats and refines them into medicated oils. It enhances and purifies them for human application. Once done, it is bottled and distributed out globally.
Singapore medicated oil is trusted because Singapore has a high reputation for pure, high-quality products and fights fraud. You can be assured of good quality, real authentic products from Singapore.
Chop Wah On華安药行鳄鱼油, Thye San Crocodile oil, Long Kwan Hung Crocodile Oil 新加坡农光行鳄鱼油
评论
Crocodile oil Reviews on Long Kwan Hung
There are reviews on Chop Wah On 華安药行鳄鱼油 crocodile oils and Long Kwan Hung crocodile oil 新加坡农光行鳄鱼油, two of the most famous medicated brands in Singapore. There are also other medicated brand such as Fei Fah, Shake Hand or Ripple crocodile oil selling well in many retail stores in Singapore We have visited Long Kwan Hung farm in Singapore to check that the oil is pure and ethically sourced. The fats are used for refining into a pure product for medication oil. Long Kwan Hung crocodile oil are verified and each bottle has a serial number tagged with the production date. This is to ensure the product is authentic and verified for clients. With the bottle serial number, the farm is able to trace where the bottle is distributed and retailed at, so they can ensure high quality for the medicated oils.
Crocodile Oil Reviews
If you have used crocodile oil or planning to use, please do take photos and send them to us! Let us know your experience and review for crocodile oil health benefits for skin, hair and/or your pets. We have various reviews from traditional medical halls and would love to increase our photos and testimonies.
Where to buy crocodile oil?
You can buy from retail shops in Singapore or online via the links below the article. In Singapore, we have a modern crocodile farm where they are recovering the fats, refining it and bottling it directly in Singapore, with modern and hygiene facilities. As each crocodile only provides 600g of fat ( 21 ounces) because they are lean and fit, a bottle of oil is difficult to come by. Crocodile oil is harvested and freshly packaged in Singapore.
Most mass-market brands are not pure or from the best parts of the crocodile. Long Kwan Hung Crocodile Farm (新加坡农光行鳄鱼油) is considered a premium brand because they use premium ingredients.  新加坡 农光行鳄鱼油 If you are concerned about aging looks and facial skincare, there is also a premium version with Ginseng added. The Ginseng cream crocodile oil 农光行鳄鱼油人参滋养焕颜修护霜 moisturizes aging skin and lightens and reduce wrinkles with ginseng essence. For those youth with acne problems, you can get specially formulated Acne Gel crocodile oil. 农光行鳄鱼油痘痘膏 We have used these products ourselves and we love how effective they are in lightening our skin and wrinkles =) Fortunately, you can click online where the costs are so much cheaper than from the retail shop, just click the product below for more details and promotion price.

新加坡 农光行鳄鱼油
评论
We are sorry that this post was not useful for you!
Let us improve this post!
Tell us how we can improve this post?