Guide to owning a Power Electric Wheelchair in Singapore
Mobility is an important aspect of independence and Personal Mobility Devices such as the Power Electric Wheelchair offers users the freedom and independence they need to move about and carry out day to day tasks efficiently and effectively. In this guide, we will look at the few things you need to know before purchasing your personal mobility device:
The rules and regulations for the different mobility devices
Deciding which mobility device to get.
The available assistance schemes to subsidize the cost of your device
Training for the mobility device
Purchasing the device
1. Understanding the Rules and Regulations for the Different Mobility Device
As Singapore improves its infrastructure to be more inclusive and accessible, accessibility to public facilities and transport for such mobility devices are improving exponentially. The increase in access allows people to navigate and do what they love independently, allowing them to connect with people and improving their sense of well-being. However, there are certain rules and regulations that govern the use of mobility devices.
Where Can Personal Mobility Devices Be Used?
The diagram above shows the speed limits of the respective electric devices and which of them are allowed onto the footpaths or roads. Mobility scooters and power electric wheelchairs are classified under as "Personal Mobility Aids" by the Land Transport Authority (LTA). Such devices are meant to restore the user's mobility that could've been compromised due to age, accident or illness. Personal mobility devices are supposed to be used on footpaths and cycling paths. For safety reasons, they are not permitted on roads but they can be used when crossing the road using zebra or pedestrian crossings at traffic lights.
Penalties for Misuse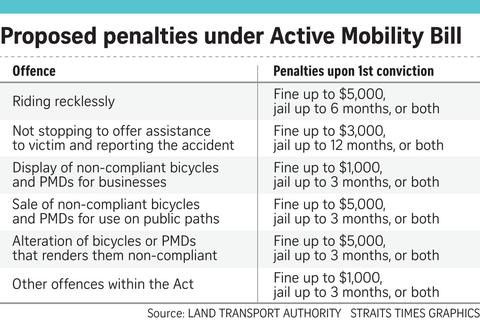 Reckless driving, alteration of such personal mobility devices and other offenses listed above are subjected to penalties of $1000 to $5000, jail time, or both.
Weight for the Personal Mobility Device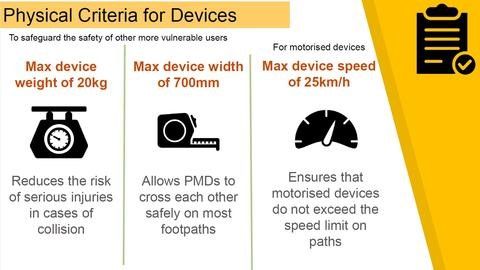 Personal mobility devices such as mobility scooters and electric wheelchairs are exempted from the 20kg weight limit. The 20kg weight limit applies to mobility devices such as e-scooters that are significantly faster than PMA's. Weight limits are imposed to prevent serious injury upon collision.
Mobility Devices on Public Transport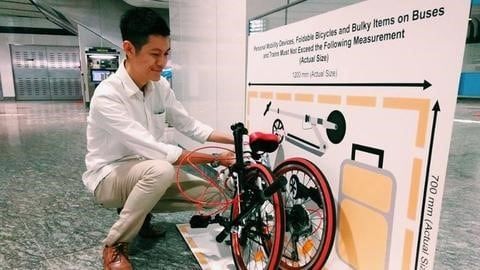 Personal mobility devices are also exempted from the dimensions of 120cm in length, 40cm in width and 70cm in height. At this point in time, there are no fixed dimensions as to how large the mobility device can be before they are not permitted onto public transport. Further details can be found on the LTA website
2. Deciding which personal mobility device to get.
After knowing the rules and regulations of the different devices, it's time to know the difference between the two most common personal mobility devices in Singapore, the Mobility Scooter, and the Power Electric Wheelchair. It is important for you to know the difference between the two as different devices cater to different needs and usage patterns. There are also other factors to consider before choosing the right device for you, as highlighted in this article from the straits times.
What is a Mobility Scooter?
Mobility scooters are a transport aid that provides users with the mobility, comfort, and independence when moving in a wide range of terrains and conditions. They are beneficial for people who have difficulty walking or standing for a prolonged period of time. Mobility scooters require more room to move as compared to motorized wheelchairs as they are larger in size and are primarily designed for outdoor use. They are operated and steered using bicycle-like handlebars which require your arms to be stretched out onto the handlebars. Do keep in mind that operating a mobility scooter will require some upper body strength, arms reach and a range of motion before deciding on one.
What is a Power Electric Wheelchair?
Motorised Wheelchairs, also known as Power Electric Wheelchairs, are specially designed for prolonged use to help people who have been injured or are suffering from disability regain some of their mobility and independence. Operated through the wheelchair's joystick, this power electric wheelchair maximizes the convenience of independent power mobility, gently and safely. Such devices can move through tight spaces and are suitable for both indoor and outdoor use.
Difference Between a Mobility Scooter and a Power Electric Wheelchair
There are distinct differences between a Mobility Scooter and a Power Electric Wheelchair and your medical needs and lifestyle will determine the type of mobility device best suited for you. The differences are as such:
Difference
Mobility Scooter
Power Electric Wheelchair
Size of the device
Longer in length with center seating
Smaller and compact in size
How is it operated
Operated with a bicycle-like steering handlebar
Operated with a joystick on the armrest
Maneuverability
Longer size with a broad turn radius. Stable when moving on different terrains
Smaller turn radius, able to move through hallways and around corners.
Duration of use
Part-time or occasional use
Consistent and for those who need full-time mobility assistance
Location of use
Used mainly outdoors for comfort and convenience
Used both indoors and outdoors for those who need full – time assistance
3. Applying for the available assistance schemes to subsidize the cost of your device
The Singapore government has various schemes in place to aid and subsidize the expenditures associated with elderly care to help them ease their financial burden. A comprehensive list of assistance schemes for the elderly can be found here and here. Some of the schemes include:
Community Health Assist Scheme (CHAS)
Pioneer Generation Disability Assistance Scheme (PioneerDAS)
Seniors' Mobility and Enabling Fund (SMF)
FDW Levy Concession for Persons with Disabilities
Interim Disability Assistance Programme for the Elderly (IDAPE)
Among the schemes, the elderly can rely on the Seniors' Mobility and Enabling Fund (SMF) to subsidize the cost of their mobility equipment's. The SMF is applicable to the elderly above the age of 60 and above who require the following:
Mobility and assistive equipment for mobility and independent living such as walking sticks, wheelchairs and pushchairs, pressure relief cushions, hospital beds and hearing aids.
Healthcare items for use and those on government-funded home care within the community
Specialized transport to attend MOH funded elder care such as dialysis or day hospice services. Subsidises includes the cost of catheters, milk supplements, thickeners, adult diapers, nasal tubing and wound dressings.
For more information and the full list of items under subsidy, you can visit the SMF website.
4. Training for the mobility device of your choice
After you have decided on your purchase, you need to familiarize yourself with the usability and functions of the mobility device. Personalized power electric wheelchair training is important as it ensures that you do not misuse the equipment in an unsafe manner as it will put yourself and others in danger. You can sign up for specialized training in handling your device in different situations to better familiarize yourself with the functionality of the device, such as:
Moving over different surface areas.
Moving onto ramps or any inclined surfaces
Managing emergency situations such as power failure
The Kwong Wai Shiu Hospital is one of four providers appointed by AIC that conducts regular training and assessments using such mobility devices. The training and assessment reduce the risk of injury and ensures the safe use of motorized devices by the users who have purchased the device to aid their mobility.
5. Purchasing the device
Electric Wheelchair – Singapore Price
The cost of an electric wheelchair is dependent on the type of mobility device you choose. The more advanced the functions of the electric wheelchair are, the more expensive it will be. It can be as cheap as $1999 or as expensive as $3,900. You can check out our range of electric wheelchairs Seniorcare have to offer.
Electric Wheelchair for Sale
Mobility is an important aspect of independence and mobility devices offers users the freedom and independence they need to move about and carry out day to day tasks efficiently and effectively. SeniorCare provides the most reliable and trusted brand of motorized wheelchairs available at the most competitive prices to satisfy your mobility needs. Our electric wheelchairs are listed below for your convenience and feel free to contact us should you have any inquiries about our Power Electric Wheelchairs. Otherwise, you may read up on these articles: Electric Wheelchair – Safety Tips and Frequently Asked Questions! and Wheelchair Safety Tips and Guide You Should Know Let us help you regain your mobility and independence. Check out one of our electric wheelchairs below!
We are sorry that this post was not useful for you!
Let us improve this post!
Tell us how we can improve this post?