Singapore Emergency Phone Number (Ambulance, SCDF, Police)
UPDATE 2020: Do call a non-emergency ambulance if you suspect you are in contact with Covid19 patients. If you have urgent covid19 questions, you can call the Ministry of Health Singapore MOH hotline at 1800 333-9999. If you are having mental stress due to covid19, retrenchment, or problems, please do feel free to call the national care hotline at 1800 202 6868 or take a look at this national emotional support. For people with Stay Home Notice (SHN) and you have queries about your SHN, please do call 6812 5555. If you have flu-like symptoms and suspect you have close contacts with people who had COVID-19 coronavirus, do call 1777 for a non-emergency ambulance, they will be able to help and send specialized healthcare workers to provide medical treatment and advice. You may also keep yourself updated on Singapore's government Ministry of Health's FAQ on the COVID-19 coronavirus via this FAQ page on coronavirus
All Emergency phone contact- Police, Ambulance, Fire, Urgent numbers in Singapore
SCDF will stop taking NON-emergency patients to the hospital. Please call 1777 instead to call for a non-emergency ambulance. In case of emergency in Singapore, you want to reach the right phone numbers or hotlines. Most Singaporeans know that 999 is for police and 995 is for fire emergencies. but do you know you can SMS or text the police too? This is especially if you are in an unsafe situation where calling is not possible
| | |
| --- | --- |
| Emergency Ambulance & Fire SCDF | 995 |
| Non-Emergency Ambulance: (Not urgent cases) | 1777 |
| Police Emergency: | 999 |
| Police Emergency SMS (If not possible to call) | 71999 |
| Police Hotline: | 1800 255 0000 |
| Fire Hazard Reporting: | 1800 280 0000 |
| SCDF General Enquiries: | 1800 286 5555 |
| AVA Hotline: | 1800 226 2250 |
| SP PowerGrid: if you facing power failure (blackout) | 1800 778 8888 |
| NEA Hotline: Dengue Reporting Hotline | 1800 225 5632 1800 933 6483 |
| Floods or Drain Obstructions: | 1800 284 6600 |
| Building & Construction Authority: | 6325 7191 / 6325 7393 |
| HDB Essential Maintenance Service Unit (ESMU): | 1800 275 5555 / 1800 325 8888 / 1800 354 3333 |
| Drugs & Poison: (non-emergency, Singapore General Hospital) (For Emergency, call 995 for SCDF ambulance) | 6423 9119 |
| Weather: | 6542 7788 |
| City Gas : (gas leakages, or disruptions) | 1800 752 1800 |
Singapore Emergency Phone Number Search
Singapore Police Force
Emergency Hotline: 999 Emergency SMS: 71999 (Police strongly advised to call 999 if you can so that they can help directly and swiftly, this SMS is only when it is unsafe or not possible for you to call 999) The Singapore Police pledge to answer 999 calls within 10 seconds and send police to reach your location within 15 minutes. SMS for (Registered DHS Users – Deaf, Hard of Hearing Services): 70999 (Non Emergency) Hotline (For Crime Related Information): 1800 255 0000 Traffic Police Information Hotline: 6547 0000 For Non-Emergency communications with the Police or law enforcement, you may send the information via i-Witness, Police@SG App or email SPF_Police_Information@spf.gov.sg Do note that if you are using an international phone in Singapore, 911 calls are routed automatically to 999 (Singapore police force) too as the police recognize some foreigners are used to calling 911 for an emergency.
Fire / SCDF (Singapore Civil Defence Force)
Emergency Hotline: 995 Do note that the SCDF fire hotline is same as SCDF emergency ambulance hotline – 995.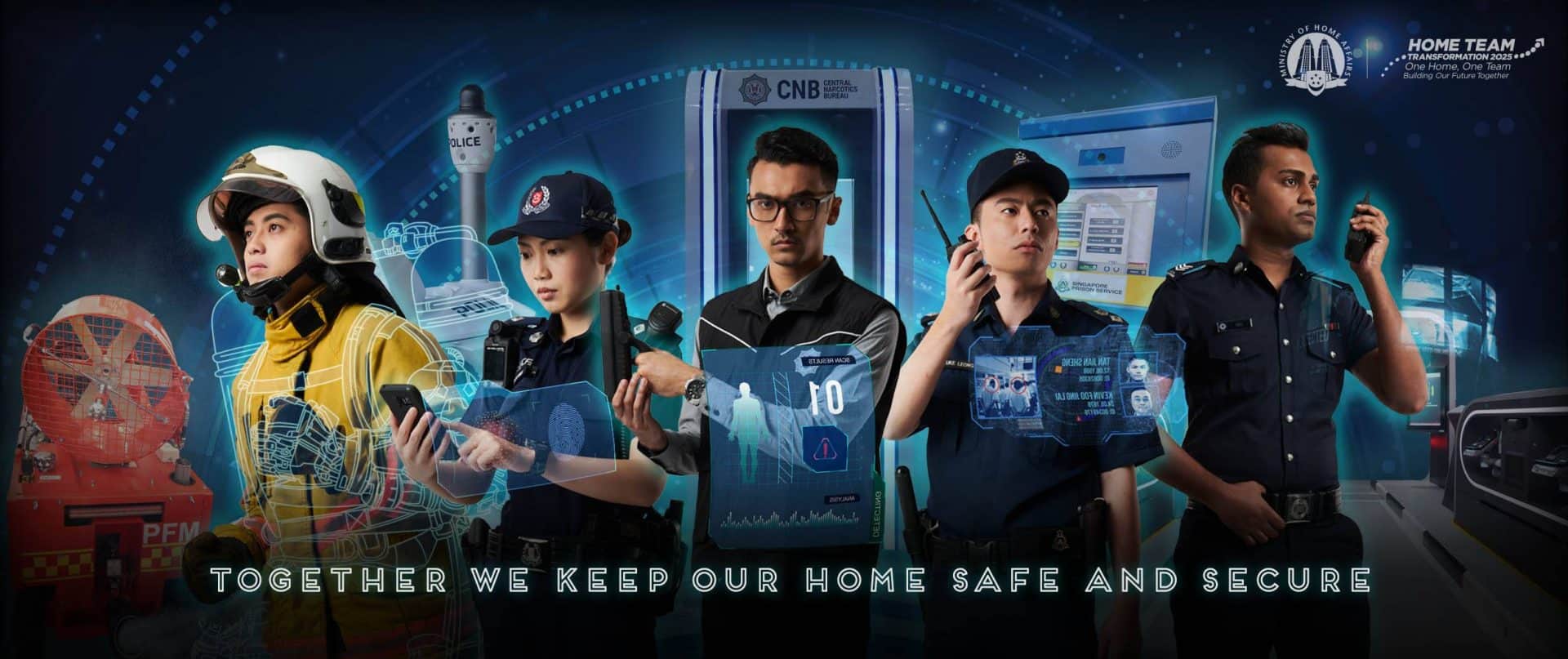 Ambulances in Singapore
Emergency Ambulance
Tel: 995 If your condition is non-emergency or not urgent, please do NOT use 995 and instead use the non-emergency ambulance hotline 1777. Please be considerate and leave the emergency hotline free for other serious victims to call.
Non-Emergency Ambulance
Tel: 1777
Private Ambulances
If you prefer private services, for more dedicated and faster services and do not mind the higher bills, you can seek private ambulances for faster and better medical care services. These ambulances can send you to their associated hospitals or places of your choice.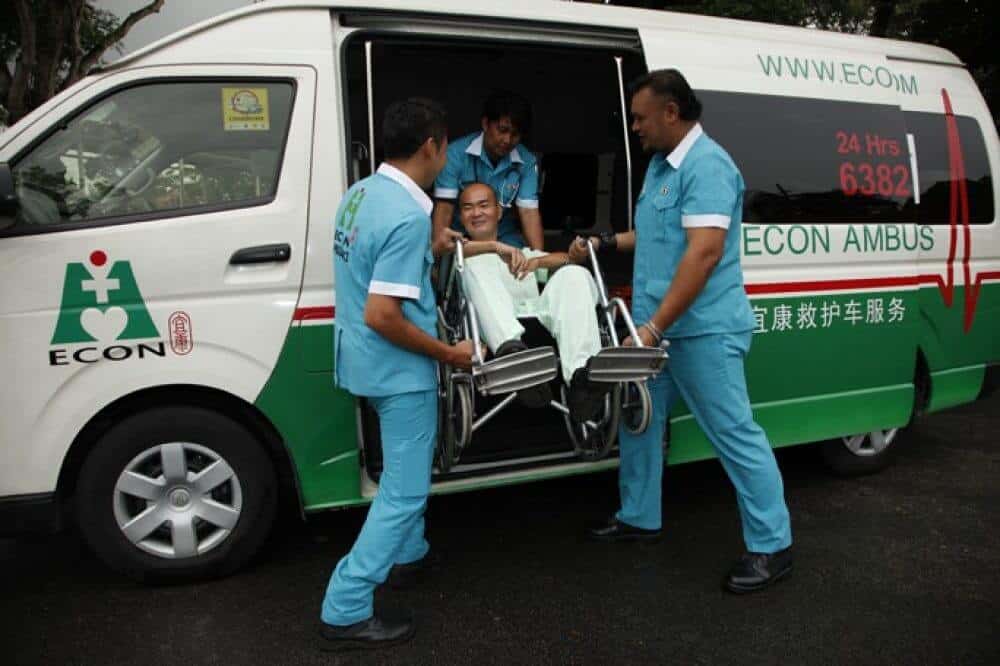 Econ Healthcare
Hotline: 6382 8888
Blesswell Ambulance & Medical Services
Hotline: 6273 0147
AIC – AME Ambulance Services
Hotline: 6247 7080
ER Ambulances & Services
Hotline: 6222 2995
Green Crescent Mobile Healthcare
Hotline: 6788 8911
Heng Gref International Assists
Hotline: 6272 6018
Civic Ambulance Services
Hotline: 6333 3000
Private Ambulance Network of Parkway East, Gleneagles, Mount Elizabeth Hospitals
Hotline: 6473 2222
Public Government Hospitals with A&E (Accident & Emergency Services)
These public government hospitals with Accident and Emergency services are useful if you have an urgent medical condition, such as broken bones, car accidents, or sudden serious medical issues.
SGH – Singapore General Hospital
Emergency Tel: 6321 4311 General Tel: 6222 3322 Outram Road, Singapore 169608 Block 1, Level 3 SGH Contact Page
KTPH – Khoo Teck Puat Hospital
Main Tel: 6555 8000 90, Yishun Central, Singapore 768828 KTPH Contact Page
TTSH – Tan Tock Seng Hospital
Emergency Tel: 63578754 General Tel: 62566011 11 Jalan Tan Tock Seng, Singapore 308433 TTSH Contact Page
KK Women's and Children's Hospital
Children A&E Tel: 6394 1177 General Tel: 6225 5554 100 Bukit Timah Road, Singapore 229899 KKH Contact Page
CGH Changi General Hospital
Main Tel: 6788 8833 2 Simei Street 3, Singapore 529889 CGH Contact Page
NTFGH – Ng Teng Fong General Hospital
Main Tel: 67162000 1 Jurong East St 21, Singapore 609606 NTFGH Contact Page
AH – Alexandra Hospital
General Tel: 6472 2000 378 Alexandra Road, Singapore 159964 AH Contact Page
NUH – National University Hospital
Emergency Tel: 6772 5000 Main Tel: 6779 5555 5, Lower Kent Ridge Road, Singapore 119074 NUH Contact Page
Private Hospitals with A&E (Accident & Emergency Services)
For those who prefer private medical service, with private nurses, doctors and private medical treatment, you can call these private hospital Accident and Emergency services. They will dispatch their ambulances as swift as they can.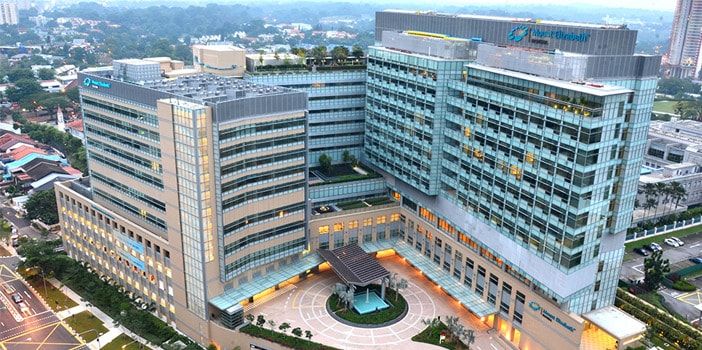 Mount Elizabeth Hospital
A&E Tel: 6731 2218 General Tel: 6737 2666 Ambulance Tel: 6473 2222 3 Mount Elizabeth, Singapore 228510 ME Hospital Contact Page
Mount Elizabeth Novena Hospital
A&E Tel: 6933 0100 General Tel: 6933 0000 Ambulance Tel: 6473 2222 38, Irrawaddy Road, Singapore 329563 ME Hospital Contact Page
Parkway East Hospital
A&E Tel: 6340 8666 General Tel: 6344 7588 Ambulance Tel: 6473 2222 321 Joo Chiat Place, Singapore 427990 PE Hospital Contact Page
Gleneagles Hospital
A&E Tel: 6470 5700 General Tel: 6473 7222 Ambulance: 6473 2222 6A Napier Road, Singapore 258500 GE Hospital Contact Page
Thomson Medical Centre
24 Hours Clinic Tel: 6350 8812 Phone: 6250 2222 339 Thomson Road, Singapore 307677 TMC Contact Page
Raffles Hospital
A&E Tel: 6311 1555 Phone: 6311 1111 585 North Bridge Road, Singapore 188770 RH Contact Page
Mount Alvernia Hospital
24 Hrs Tel: 6347 6688 General Tel: 6347 688 820 Thomson Road, Singapore 574623 MAH Contact Page   Contact curated and managed by SeniorCare These are the emergency numbers that all caretakers and senior citizens in Singapore should know.
We are sorry that this post was not useful for you!
Let us improve this post!
Tell us how we can improve this post?