Best Automatic Blood Pressure Monitors Omron HEM (Upper Arm BP) Reviews in Singapore! 
In Singapore, the most popular and best brand of blood pressure monitors is Omron. We have also bought and tested less popular blood pressure monitoring device brands, such as Yuwell, Panasonic, RossMax, Xiaomi, and Tensoval Mobil but these are not as established and reputable as Omron Healthcare.
We also tested in-house brands by Guardian or Watson, but you may see that customer reviews have not been stellar.
UPDATE March 2023- All Omron Blood Pressure Monitors (JPN, 7121, etc) come with FREE DELIVERY in Singapore!
Chances are, if you are having high blood pressure (hypertension), are senior, or are worried enough to want to monitor your blood pressure at home, you would want to buy a reputable brand. Even the cheap, budget model of a reputable Omron brand will give you peace of mind.
There are also many non-recognized brands, usually parallel imported into SG without HSA (Health Science Authority)'s approval. SeniorCare is the official authorized dealer for all Omron consumer health products in Singapore so you can be assured of a high-quality product. All BPMs come with a direct 5 years warranty from Omron Asia Pacific in Singapore.
How to read your blood pressure monitor readings: Determine if it's Normal
When it comes to your heart health, blood pressure is one of the most important factors. It determines how well your heart functions and whether it's in good shape or not. Your pressure is likely to fluctuate, so please retake measurements when an error is detected due to various reasons.
Simple Blood Pressure Readings Guide Chart for your reference
Normal blood pressure is considered to be below 120/80 mm Hg.
Elevated blood pressure ranges from 120-129/less than 80, 
high blood pressure is defined as 130/80 or higher.
Use a wrapping guide or body movement detection that asks the user to retake measurement. You should have your arm on a desk at an ideal level with each use for comfort and ease of use.
What does your blood pressure numbers mean?
Blood pressure refers to the force of blood flowing through your veins and arteries. It is the measure of the pressure or force of blood flowing through your blood vessels. When you measure it, you get two BP suggest that systolic or diastolic pressure. 
High blood pressure occurs when any or both of these numbers stay high. The top number, systolic, measures the pressure against artery walls while pumping blood, while the bottom number, diastolic, measures the force between heartbeats.
Healthy and unhealthy blood pressure ranges categories
Measuring your blood pressure is essential in determining if it is within a healthy range.
Normal blood pressure is considered to be below 120/80 mm Hg.
Elevated blood pressure ranges from 120-129/less than 80, 
high blood pressure is defined as 130/80 or higher.
BP numbers above 115/75 mm Hg may increase the risk of developing cardiovascular disease.
A systolic reading below 90 may signify low blood pressure. 
 The American Heart Association AHA (Ohaasama recent studies) has defined 5 blood pressure ranges to classify blood pressure status. Systolic blood pressure is considered a better predictor of hypertension complications. 
Normal Range
Blood pressure is an important measure of overall health, and it's important to understand what is considered normal. For adults, a standard range is less than 120/80 mm Hg. 
For most adults, a below 120 and a below 80 is considered to be within the normal range. If your diastolic pressure is outside the standard range, blood pressure is likely.
Elevated Range
When the readings consistently fall between 120-129 systolic and less than 80 diastolic mmhg, it signifies elevated blood pressure. Elevated blood pressure can lead to an increased likelihood of developing hypertension, which can cause heart attacks and strokes. Systolic or Diastolic above 135 systolic is not healthy.
Blood pressure readings of 120/80 to 140/90 indicate prehypertension. If left untreated, prehypertension can progress to high blood pressure, leading to thickening of the heart muscle, micro-tearing of the artery wall, cholesterol deposition, and ultimately heart failure and atherosclerosis.
Now that you are clearer about how to read blood pressure measures, let us check the best models to buy for home use!
Blood Pressure Monitors- From Medical Grade to portable model
Omron healthcare products are used in many Singapore private and public hospitals, and many GP clinics and family doctors are using them too. As there are so many different needs in society, they have produced many different models of blood pressure machines that you can buy that suit your needs.
If you are overwhelmed with the variety of choices, just take note that the HEM-7121 is the most popular choice among Japanese and Singaporeans. It is designed with value for money at a great friendly price.
The 7130L blood pressure monitor (Upgraded 7130) is the second favorite in Singapore, it loses out because of its hefty market price of $179. This is one of the best blood pressure monitor devices you can buy in Singapore because it is a premium model at a reduced price.
The latest premium version is HEM 7361T and HEM 7600T (tubeless, wireless blood pressure machine), great models to have, just that it is high-end unit and only recommended if you only want the best blood pressure monitors for home blood pressure monitoring in Singapore.
Omron's core computer chips are all made in Japan but most models are assembled in Vietnam. The JPN500 is 100% made and assembled in Japan for the strictest highest quality assurance.
Best Comfortable Upper Arm Blood Pressure Measurement Monitors reviews
Interestingly, we tested across so many brands, but all the top received models (in terms of accuracy, ease of use, value for money, etc) by Singaporeans are of the Japanese Omron brand.
HEM 6121 – Small, light, and portable wrist blood pressure monitors.

Omron HEM 7120 – Designed for the general public, accurate readings and affordable.
Omron HEM-7121 – Designed for the general public, accurate measurement and affordable, and with more storage and memory of previous readings.
HEM 7130 and 7130L – Accuracy is like 7121 but with more memories for the whole household.
HEM 7322 – High premium grade with great accuracy.
HEM 7320 – Hospital-grade, 360 degrees, able to have great accuracy in any position.
JPN500- (Upgraded JPN2) Designed to be like 7120 and 7121, except the entire model is fully made in Japan. For most models, only the computer core and chips are made in Japan and the products are assembled in Vietnam.
OMRON Smart Elite+ HEM-7600T – Tubeless & Wireless Design to capture accurate and consistent readings for users especially the pregnant or elderly with limited mobility and bed riddance.
HEM-7361T – (Upgraded version of HEM-7320) Dual Check for Dual Users which allows users to have a comprehensive check for their risk of stroke.
What are the best popular accurate and comfortable upper arm blood pressure machines in Singapore?
In Singapore, the HEM-7121 and the 7130L are the 2 most popular bought models among all the blood pressure monitors (such as Yuwell, RossMax, Tensil Mobil, Watson, and Guardian generic brands).
The best blood pressure machines in Singapore are the 7130L and 7121 models in the charts below.
Top 6 most popular Best Omron blood pressure monitors models in Singapore Chart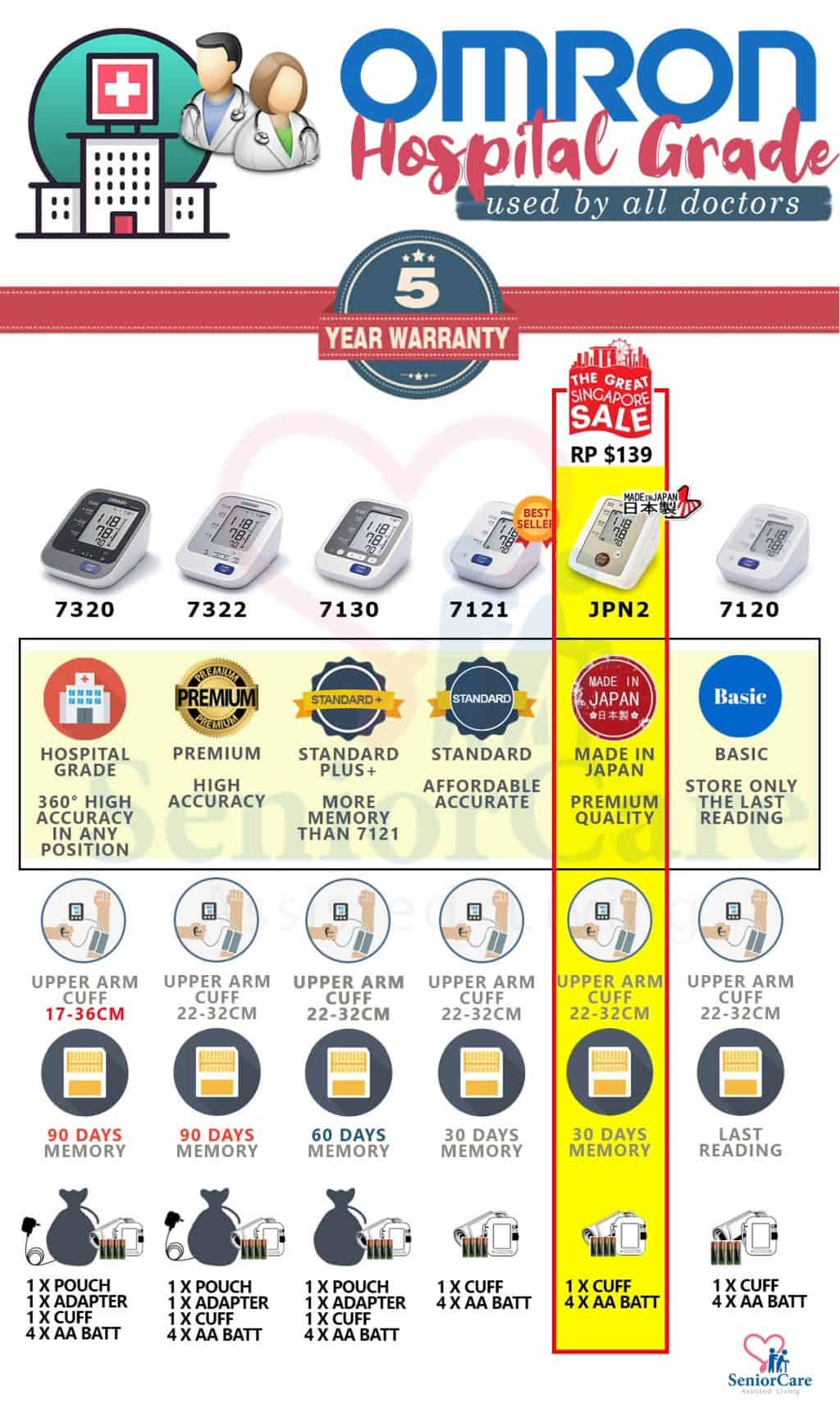 Which best blood pressure monitor I should buy?
If you are using it at home, please refer to the HEM-7121, it is affordable and accurate enough for daily monitoring of your blood pressure.
If more than 1 person is using it, and like to have a long record of daily blood pressure, do go for HEM 7130 (the latest version is 7130L)

, it has more memory.

If you want a BPM to carry around, from home to work, or when traveling overseas for business or leisure, go for the HEM 6121
If you want a better accurate graded model, go for HEM 7322
If you want a hospital-grade machine that the patient can use in all positions, even in non-sitting-taking-reading positions, go for HEM-7361T (which is upgraded version of HEM 7320) especially convenient for hypertensive users and for people with certain arrhythmia or heart disorders.
Go for Omron Smart Elite+ HEM-7600T if you like wireless and tubeless version.
All monitoring devices are have their inner computer cores made in Japan.
Here is a detailed overview of the features of each blood pressure device.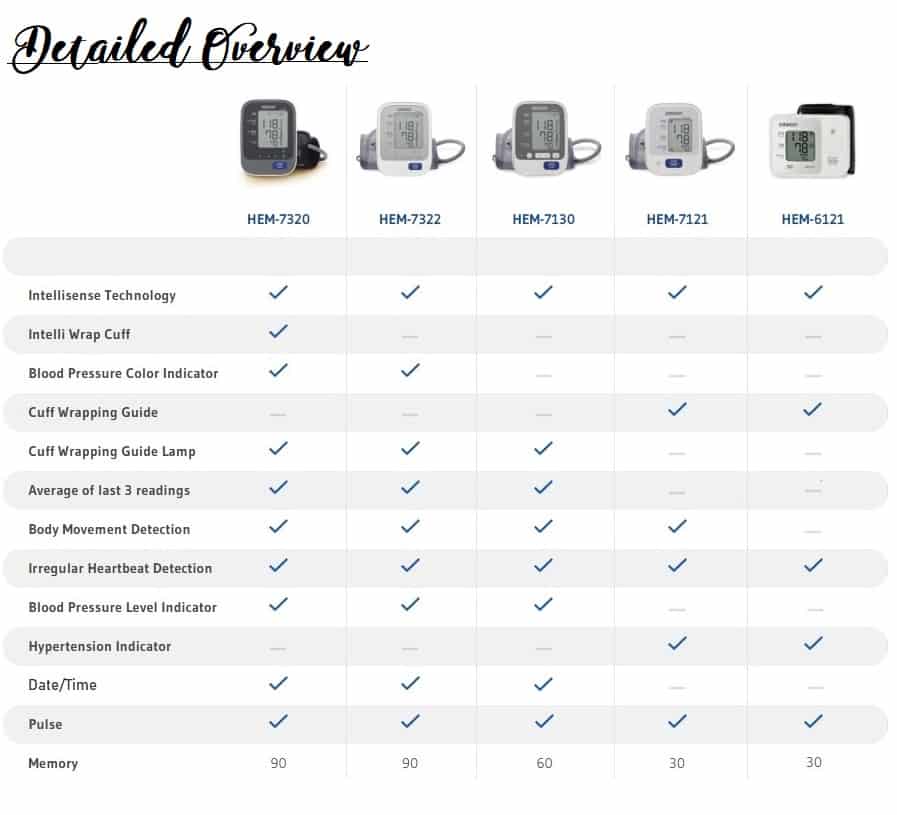 You can check the features above and choose the model with the functions that you like. Everyone has their own preferences, for example, I bought the highest grade version for my parents, and I am using the normal HEM-7121 for myself.
We bought a HEM-6161 (upgraded version of 6121) so that when we travel aboard, we can monitor too. Choose one that suits your lifestyle, be it for the office or home.  
Customer Reviews of Omron Blood Pressure Monitors for Singapore
You may be interested to know that this is a great brand with tons of 5 stars reviews in Singapore and Japan. These are some of our customer reviews that bought and gave their feedback and reviews of their models.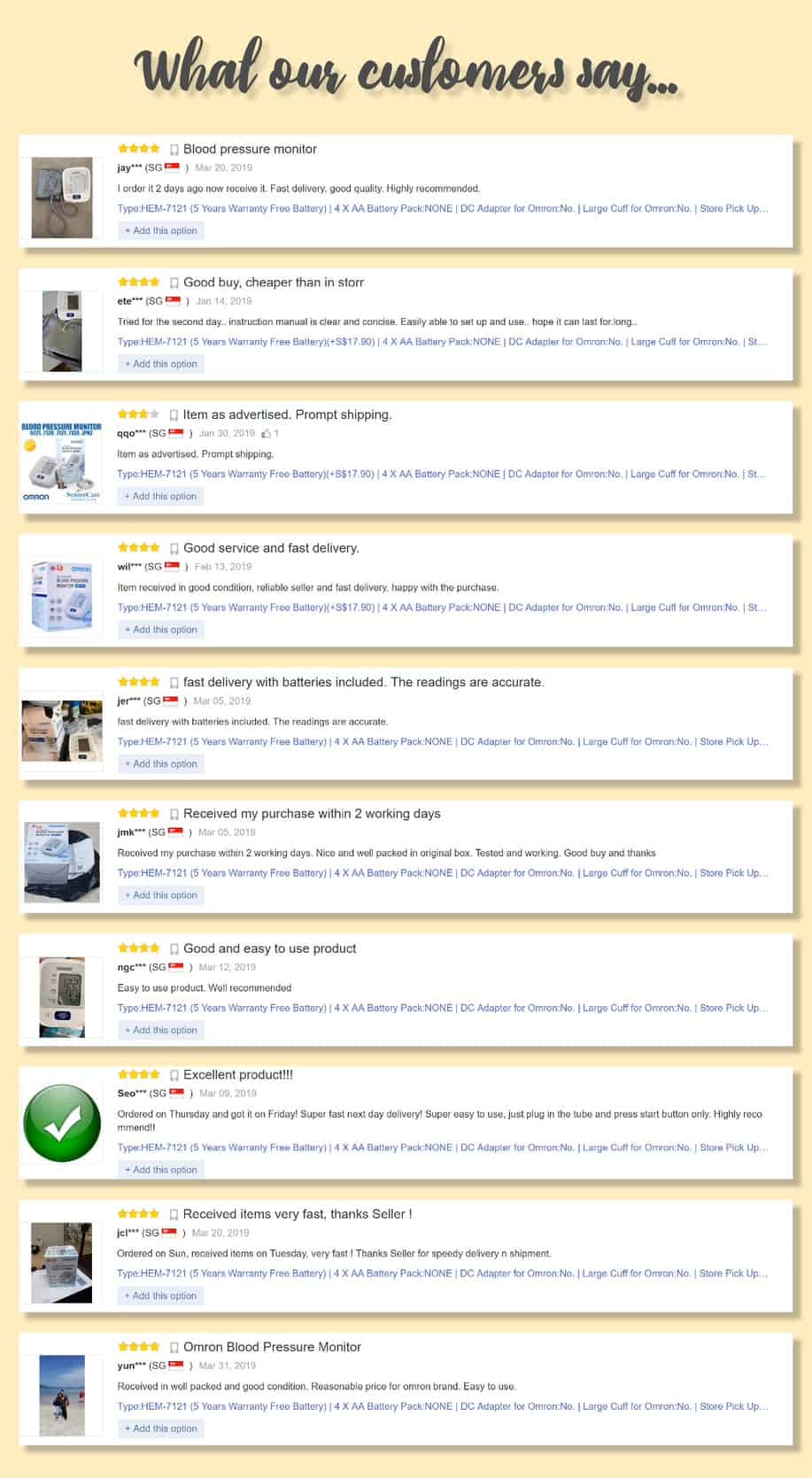 We have been reviewing different brands of blood pressure monitors for the past few years and so far, we have to say Japanese brands give the greatest customer satisfaction and brand loyalty among all the different medical supplies instruments. We love them for their consistency and reliability, especially among senior citizens and caretakers.
Omron HEM 7121 for home use, and HEM 7130L if you want the best value for money (promotion for 2023).
Monitoring your blood pressure Measurement with Enhanced Intellisense
Omron's Enhanced IntelliSense Technology is a patented blood pressure measurement technology used in many of their higher-end premium or hospital-graded models. This technology is designed to provide accurate and comfortable blood pressure readings with one-touch connectivity.
Providing Accurate and Comfortable Upper Measurement with Enhanced Intellisense Technology with Correct size Cuff that does not fluctuate
It uses a unique algorithm to determine the optimal level of inflation for the cuff. The monitor inflates the cuff to the ideal level (or deflates) that is customized for each individual user, based on their arm size and other factors. This inflation for maximum comfort ensures that the cuff is not too tight or too loose, which can lead to inaccurate readings. Adjustments are required (every 2 cm) when detected due to movement of the body.
In addition, the technology includes an advanced sensor with detection of any irregular heartbeat detection, which can also affect the accuracy of blood pressure readings. The monitor alerts the user if an irregular heartbeat is detected (heartbeat symbol will blink), so they can consult with their healthcare provider if necessary.
The Enhanced IntelliSense Technology also incorporates other features to enhance accuracy, such as averaging multiple readings taken over a short period of time, and providing an indicator if the user moves during the reading.
Overall, this technology provides a reliable and accurate taken a measurement result, which is essential for monitoring and managing blood pressure levels. You can repeat the measurement to find it consistent.
Where to buy high blood pressure monitors from authorized dealer in Singapore?
SeniorCare is Omron BP monitors authorized dealer, comes with free shipping and the best pricing than Guardian or Watson Pharmacy and is way cheaper than supermarkets, pharmacies, or supermarkets (NTUC FairPrice, Giant, Cold Storage.
Click here for the full comprehensive range of blood pressure monitors and accessories. or contact us for receipt or bulk purchase as popular corporate gifts.
Click here for the full range of blood pressure monitors and accessories.
We are sorry that this post was not useful for you!
Let us improve this post!
Tell us how we can improve this post?