Blood Pressure Monitors Reviews Omron in Singapore
In Singapore, the most popular brand of blood pressure monitors is Omron. There are other less popular brands, such as Panasonic, RossMax, Tensoval Mobil but these are not as established and reputable as Omron healthcare. There are also many non-recognized brands, usually parallel imported into Singapore without HSA (Health Science Authority)'s approval. We are the authorized dealers for all Omron consumer health products in Singapore so you can be assured of a high-quality product. Omron blood pressure monitors come with a direct 5 years warranty from Omron Asia Pacific in Singapore.
UPDATE March 2020- All Omron Blood Pressure Monitors (JPN, 7121, etc) come with FREE DELIVERY in Singapore!
Omron Blood Pressure Monitors- From Medical Grade to portable model
Omron blood pressure monitors are used in many Singapore private and public hospitals, and many GP clinics and family doctors are using Omron too. As there are so many different needs in society, Omron has produced many different models of blood pressure monitors that you can buy that suit your needs.
If you are overwhelmed with the variety of choices, just take note that the HEM 7121 is the most popular choice among Japanese and Singaporeans. It is designed for the mass at a great friendly price. The JPN500 blood pressure monitor (Upgraded JPN2) is the second favorite in Singapore, it loses out because of its hefty market price of $139. Fortunately, there is a great Singapore 2022 Sales which retails the JPN500 HEM7123 Blood Pressure Monitor at $99 for this current model. This is one of the best blood pressure monitor devices you can buy in Singapore because it is 100% made in Japan.
Omron's core computer chips are all made in Japan but most models are assembled in Vietnam. For the JPN500, it is 100% made, assembled in Japan for the strictest highest quality assurance.
Omron Blood Pressure Monitors models reviews
Omron HEM 6121 – Small, light, and portable
Omron HEM 7120 – Designed for the general public, accurate and affordable
Omron HEM 7121 – Designed for the general public, accurate and affordable and with more storage and memory of previous readings.
Omron HEM 7130 – Accuracy is like 7121 but with more memories for the whole household
Omron HEM 7322 – High premium grade with great accuracy
Omron HEM 7320 – Hospital-grade, 360 degrees, able to have great accuracy in any position.
Omron JPN500- (Upgraded JPN2) Designed to be like 7120 and 7121, except the entire model is fully made in Japan. Most Omron models, only the computer core and chips are made in Japan and the products are assembled in Vietnam.
OMRON Smart Elite+ HEM-7600T – Tubeless & Wireless Design to capture accurate readings for users especially the pregnant or elderly with limited mobility and bed riddance.
Omron HEM-7361T – (Upgraded version of HEM-7320) Dual Check for Dual Users which allows users to have a comprehensive check for their risk of stroke.
What is the best popular blood pressure monitor in Singapore?
In Singapore, the HEM 7121 and the JPN500 are the 2 most popular bought models among all the blood pressure monitors (such as RossMax, Tensil Mobil, or Watson, Guardian generic brands).
Here is a simple chart for the top 5 most popular Omron models in Singapore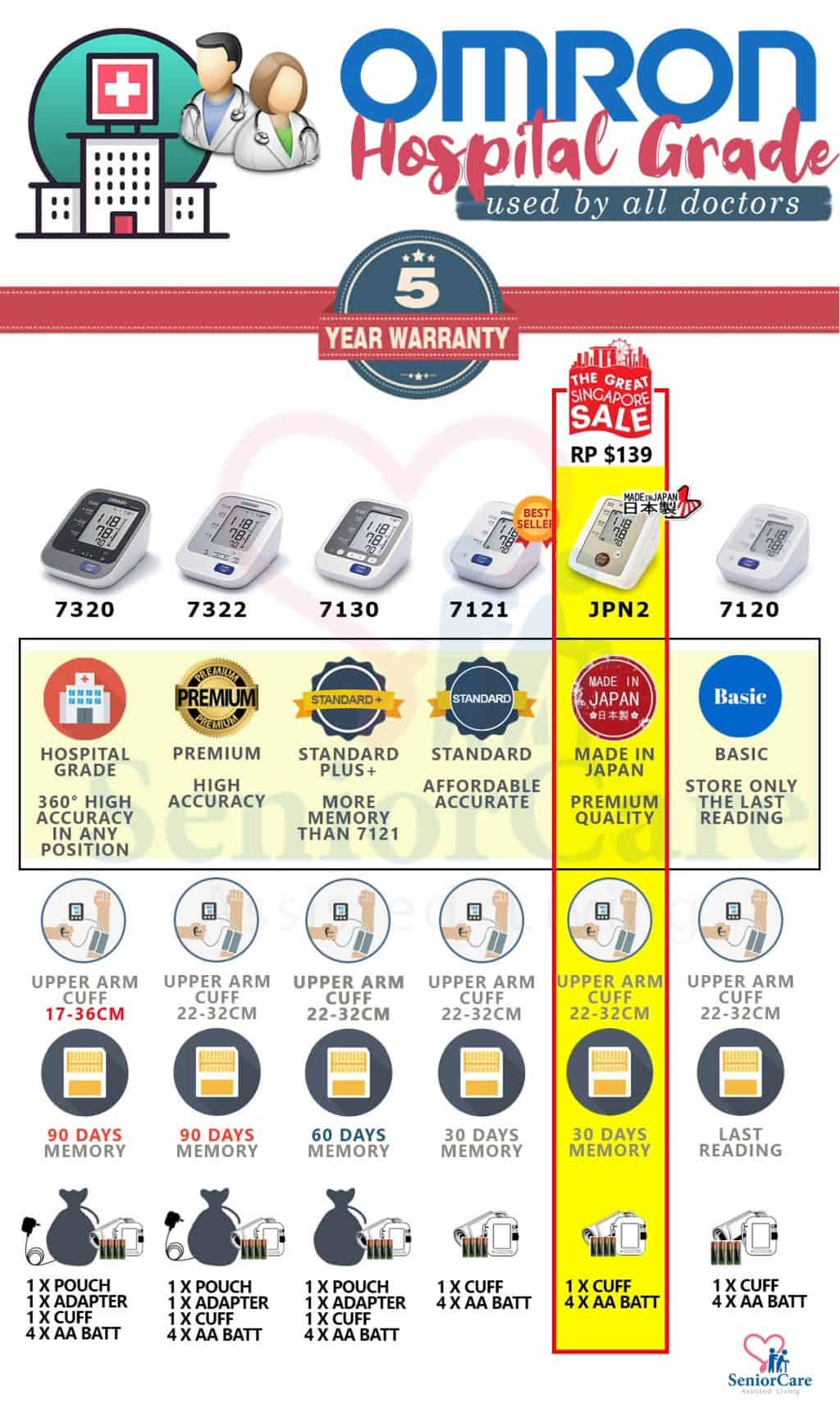 Which blood pressure monitor I should buy?
If you are using it at home, you may prefer the HEM 7121, it is affordable and accurate enough for daily monitoring of your blood pressure.
If more than 1 person is using it, and you prefer to have a long record of daily blood pressure, do go for HEM 7130, it has more memory.
If you want a BPM to carry around, from home to work, or when travelling overseas for business or leisure, go for the HEM 6121
If you want a better accurate graded blood pressure monitor, go for HEM 7322
If you want a hospital-grade blood pressure monitor that the patient can use in all positions, even in non-sitting-taking-reading position, go for HEM 7320
Here is a detailed overview of the features of each blood pressure device.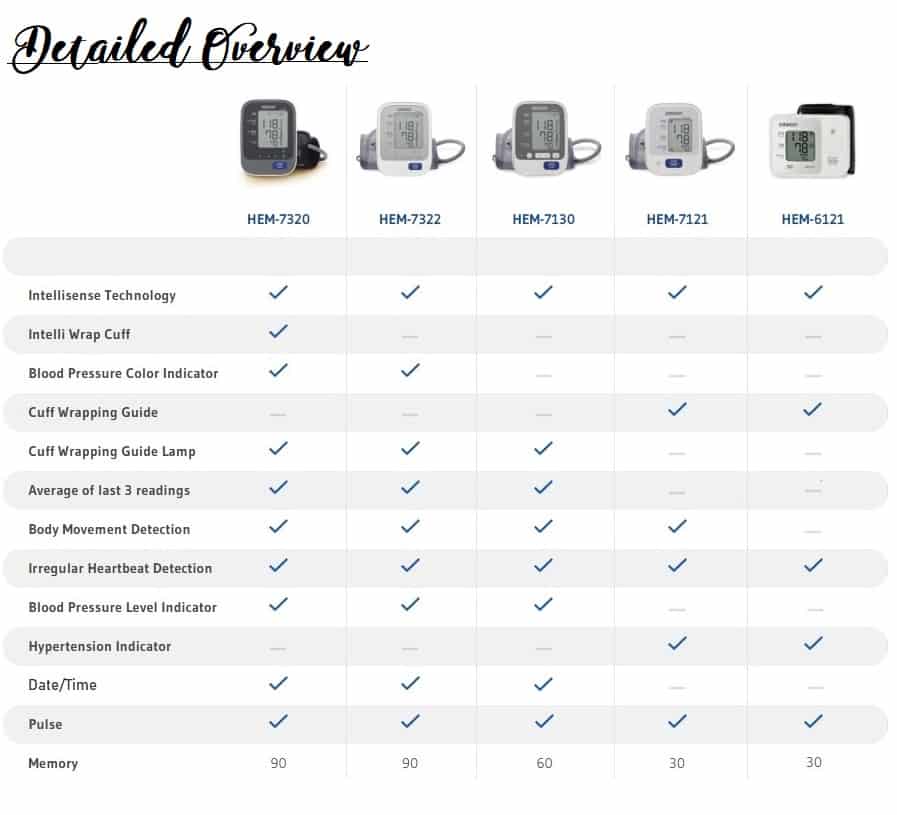 You can check the features above and choose the model with the functions that you like. Everyone has their own preferences, for example, I bought the highest grade version for my parents, and I am using the normal HEM 7121 for myself. We bought a HEM 6121 so that when we travel aboard, we can monitor too. Choose one that suits your lifestyle, be it for office or home.
Customer Reviews of Omron Blood Pressure Monitors for Singapore
You may be interested to know that Omron is a great brand with tons of 5 stars reviews in Singapore and Japan. These are some of our customer reviews that bought Omron blood pressure monitors and giving their feedback and reviews of their Omron monitors.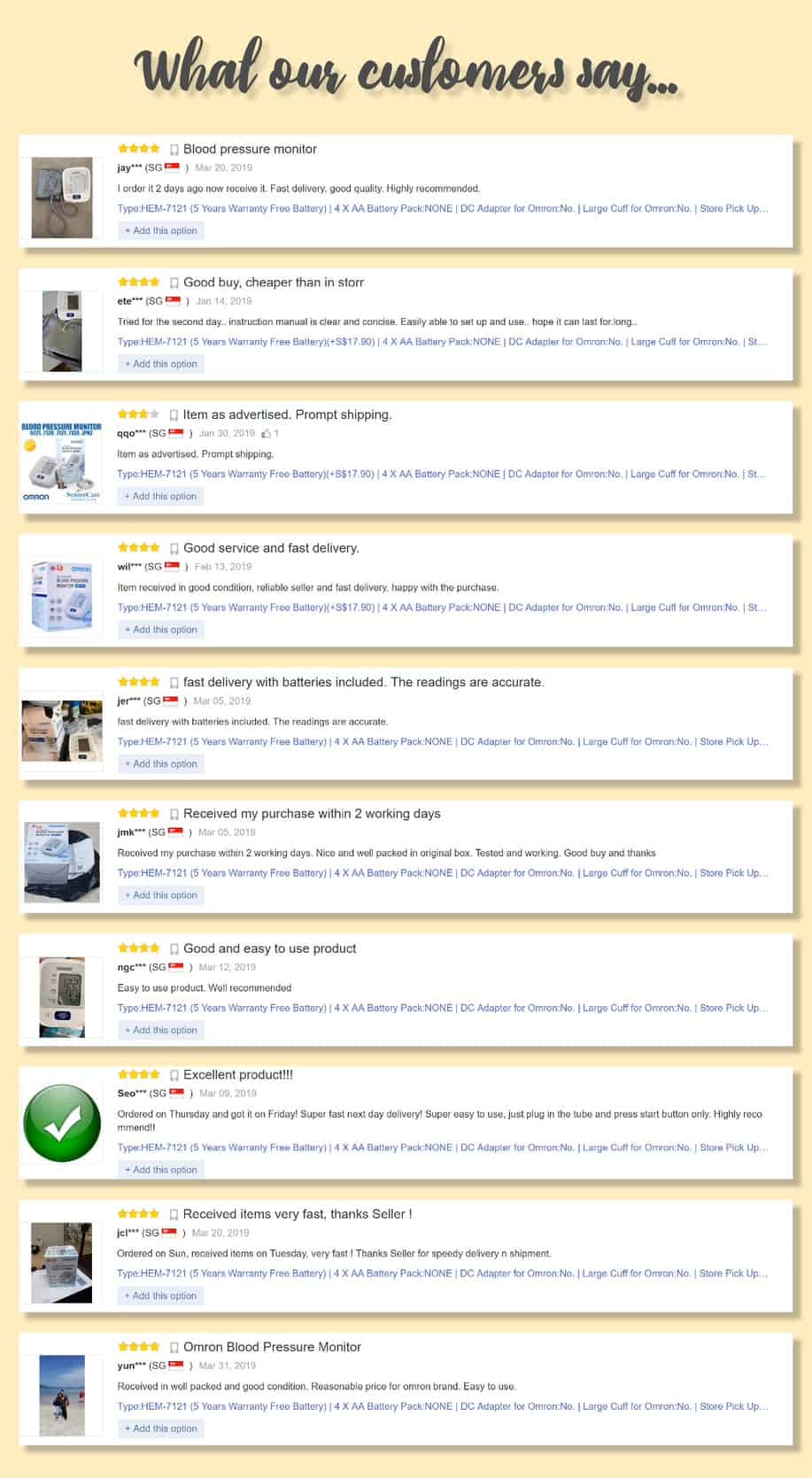 We have been selling different brands of blood pressure monitors for the past few years and so far, we have to say Omron gives the greatest customer satisfaction and brand loyalty among all the different medical-grade instruments. We love them for their consistency and reliability.
Seniorcare comes with free shipping and better pricing than Guardian or Watson Pharmacy and is way cheaper than supermarkets, pharmacies, or grocery stores.
Click here for the full range of
blood pressure monitors and accessories
.
We are sorry that this post was not useful for you!
Let us improve this post!
Tell us how we can improve this post?