6 Helpful Bathroom Aids to Improve Safety for Elderly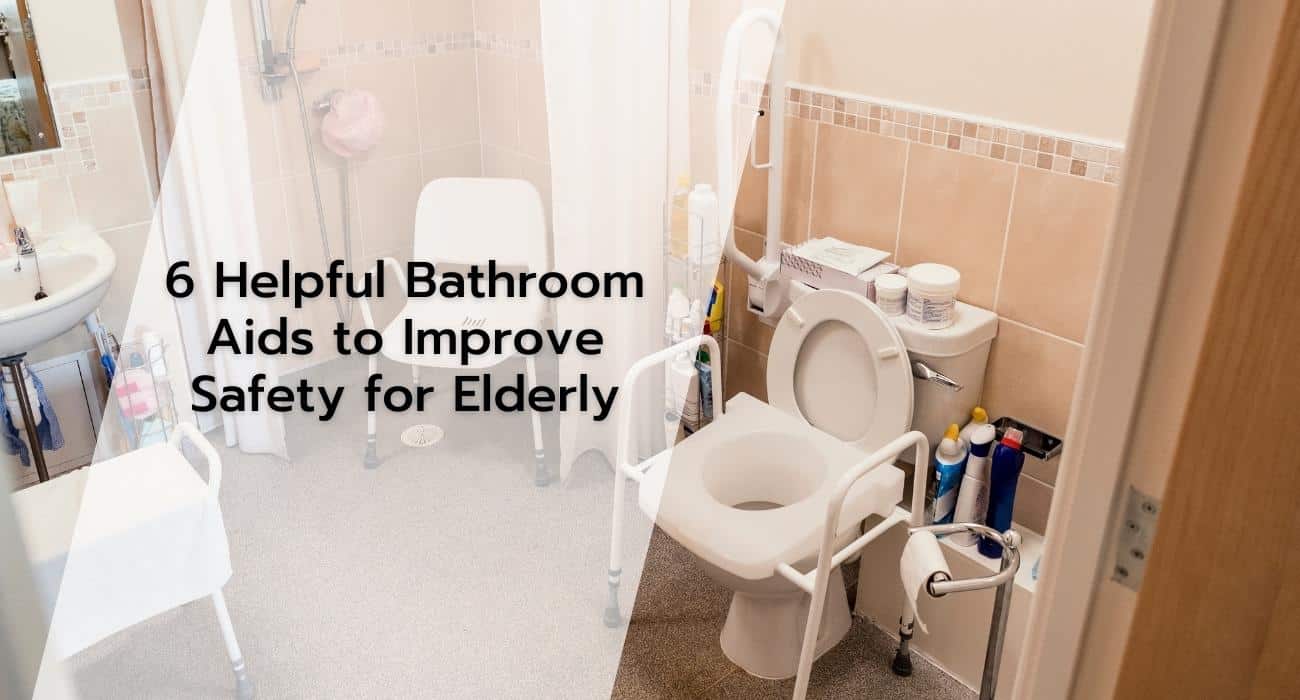 Do you know that the bathroom is one of the most dangerous places inside our house- especially for children and the elderly? Do you know what is one of the leading causes of accidental deaths in many countries? 
This small room has many sharp and hard surfaces when the place is wet from use, it can make a dangerous condition.   Every day. the hospital receives patients from slipping and falling in the bathroom and toilet. 
The bathroom/ toilet / shower is especially dangerous to older adults and children, as, in fact, most cases happened to these two groups. It can be very serious if they hit their head when they fall.
However, the risk of getting contusion, abrasion, strain, or fracture by falling or slipping in the bathroom can be reduced rather easily. In this article, we will explain how to prevent falls in the shower.  
How Do You Prevent Falls In The Shower?
A bathroom is a dangerous place because the floor is often wet and slippery, making it easier to fall. There are many things you can do to prevent falls in the shower, that's why I listed down all possible bathroom aids you can use to help your loved ones prevent the fall:
Non-Slip Mats or Strips
Use non-slip mats or strips in the bathtub or shower. If you are using ordinary rugs, remove them or use double-sided tape or a non-slip backing so the rugs won't slip. 
For an anti-slip bathroom mat, use a product that has vacuum suction technology to make sure it is secured and stick to the ground so you don't have to worry about them slipping.
To make it easier to clean, look for a bathroom mat that has holes for a hygienic drainage system.  
Safety Grab Bar
Put safety grab inside the bathroom. Put grab bars inside and outside of the tub or shower and near the toilet to help them sit and stand.
There's an Anti-Slip Grab Bar With Pole that can be folded wherever it's needed.
Grab bars can help our elders to push or pull against when standing up, provide steadying support while sitting down, provide a firm grip when transferring from one position to another, and for balance when standing, walking, or dressing.
Pick the nylon-coated stainless steel grab bars to prevent them from getting slippery when wet and to ensure maximum friction when in use.
Shower Seat
The shower seat provides necessary assistance and support to elderly people who can't stand safely.
You can install it for your parents or grandparents, do a modification for the entire bathroom, or just buy the anti-slip seat. There are several types of shower seats:
Anti-slip seat with backrest
Choose a safe bath experience with a textured anti-slip seat, ergonomic hand grips at the sides of the seat, and a backrest for greater comfort.
Adjustable Height Shower Chair
There's also an adjustable shower chair where you can adjust the height to be tall or short. Always look for anti-sliding design and comfortable gripping to prevent the elder from falling.
Wall mounted chair
If you choose the permanent one, pick the wall mounted chair. This type of chair has to be installed inside your bathroom wall. Choose a textured seat to prevent slip and the one that has a better drainage system. If you want to choose the foldable one for easy storage, the bathroom shower wall mounted shower seat with backrest is good for you.
Toilet Frame
Installing a toilet frame is a great idea for those who are a fall risk and need handles in the bathroom, people who need a handicap-compatible toilet, seniors disabled people, and pregnant women to safely sit or stand alone at the toilet. The toilet frame is a handicap grab bar for toilets that allow you to sit safely or stand at the toilet.
Aluminum Toilet Commode Chair
If you are traveling with your elder and you're worried that they might have difficulties in another toilet, consider getting yourself a foldable commode chair. This chair has a convenient sitting position for all users – no need to bend, lean, or squat. Here are some reminders that you have to put in mind when using this bathroom aid;
For older adult users, encourage them to do exercise to improve their balance and make their legs stronger.
Clean up wet areas and spills as quickly as possible to prevent the user from slipping.
If you are on medication, have your doctor look over your medication as some drugs can make you sleepy or dizzy.
What to Do If You Fall Down?
We now know that we can prevent falling with the use of the helpful bathroom safety aids that I shared with you.
However, even the most cautious person can experience an incident that's why I'm going to share with you what's the best step to do when you fall or if an elder falls.
Assess the Situation and Keep Calm
If you are to assist the elder and you're more anxious than he/she then you will make the elder nervous and worried. First, calm yourself and properly assess the situation. If you are not trained person to do this, avoid unnecessary actions and call someone who knows what to do.
Reach Stable Furniture for Support
If you can get up, reach out for an item of stable furniture for support. But don't get up too quickly, roll onto your hands and knees and look for stable support. Sit down and rest for a while before carrying on with your daily activities. However, if you can't get up, try to crawl or slide to seek help. This is the importance of assistive devices like grab bar because they allow you to grip for support at the wall and reduce fall incidents.
Check for Head Injury
If you fall or an elderly fell, make sure to check for any head injury. Don't get up; don't move. Since head injuries can be life-threatening. For a minor head injury, you can use some first aid at home.
An ice pack wrapped in a towel for about 30 minutes works for pain but for a serious head injury like bleeding or you blackout, make sure to call medical personnel to assess the situation and make an appointment to visit the doctor.  
Go to the Nearest Hospital
If you fell and you are injured, make sure to visit a doctor or hospital if you can or call someone to take you there. Even a simple fall can be life-threatening so you have to be mindful and visit the hospital even if you are not bleeding.
It is important to be assessed in the right way and see if there are other medical issues to be concerned about. Falls are often due to hazards that are easy to overlook but easy to fix.
With simple step like adding anti slip bathroom mat, adding safety grab bars in the bathroom, adding a shower seat, inserting a toilet frame, and even leaving a light on the bathroom at night so your loved ones wouldn't have difficulties when entering it can make a difference.
These are Singapore's emergency police, SCDF, hospital number. In conclusion, it's better to be safe than sorry. 
At first, making your home more secure and safe may be time-consuming, but in the end, the benefits are worth it because you can make your home safer for your parents, your grandparents, your kids, and even your grandchildren.
We are sorry that this post was not useful for you!
Let us improve this post!
Tell us how we can improve this post?