Substitutes for Different Milk Feed, Ensure Plus, Glucerna, Jevity, Resource. Difference between Ensure Plus and other Ensure series?
Some of us are looking for substitutes for our current milk feed, such as Ensure Plus substitutes. Or you can be looking for substitutes for Glucerna, Jevity, Resources Fruits, Resource Plus, Nutren Diabetes, etc.
We have some general information that may help you to choose between substitutes and you can check with your dietician or doctor before changing your usual milk feed.
Ensure (Plus, Life, Original, Milkshake, Gold, Protein, Powder)
Glucerna
Jevity
Nestle Resource (2.0, Protein)
Resource Fruits
Fortijuce
Fresubin Drinks (Renal, Jucy, 2kcal, Protein Energy)
Diben
Some patients change their milk feed for costs or availability reasons, some are changing because of taste preferences. Abbott has Ensure, Jevity, and Glucerna while Nestle has Nutren Diabetes, Resource Plus, Resource Fruits, etc. Have you considered if you can switch out of your current brand of milk nutrient feed?
What are some substitutes for Ensure Plus?
Nestle's Resources Plus Vanilla or Chocolate. A dietician can recommend that you substitute Resource Plus for Ensure Plus, but for each outpatient, you may like to talk to your doctor or nutritionist.
Some users have been using Ensure Life powder (850g) to mix drinks to replace Ensure Plus too. The minerals and nutrient composition are very similar between Ensure Life powder and Ensure Plus and so they can be substituted for each other.
Do note that Ensure Plus has a much energy content, so you may have to drink more Ensure Life powder drinks to get sufficient calories to substitute over Ensure Plus. Do check with your nutritionist or medical doctor for proper advice as our information is general in nature and may not be specific to you.
Substitute your ensure, jevity, glucerna, nutren, resource, or fortijuice?
There are many different brands and types of milk feed out there that can meet similar goals and can be substituted for one another with supervision. Please do check with your doctors or nutritionist before changing your milk as you may have conditions that request closer medical checks. These milk nutrient values are different, and the comparison is only for reference only. Please check with your doctor or nutritionist.
Glucerna Liquid (250ml can) would be similar to Nutren Diabetes Liquid
Ensure Plus Milk would be similar to Resource Plus Milk
Jevity would be similar to taking any Ensure products, with more fiber in users' diet (such as banana, beans, etc)
Ensure Liquid (250ml can) would be similar to Ensure Plus or Resource Plus milk
Fortijuce would be similar to Resource Fruits
There are also Fresubin and Diben drinks that act as substitutes.
We have checked with some dieticians and they provided us with similar substitutes of the current milk you may be drinking. However, this information is general, and you may prefer to check with your doctor in case you have unique conditions.
| Milk You Are Drinking | Similar Substitute |
| --- | --- |
| Glucerna Liquid (250ml can) | Nutren Diabetes Liquid |
| Ensure Plus Milk | Resource Plus Milk |
| Jevity | Any Ensure products, with more fiber in users' diet (such as banana, beans, etc) |
| Ensure Liquid (250ml can) | Ensure Plus or Resource Plus milk |
| Fortijuce | Resource Fruits |

Unique and more strict milk feed for inpatient uses
The milk feed below are more special and unique. You have to consult your doctor or clinic for more information.
Pulmocare has no substitute
Resource 2.0 has high calories.
Nepro
Novasource
Prosure
What about flavours of the milk? Does chocolate, strawberry, raspberry, coffee, or vanilla matter?
The different flavours of milk powder and nutrient feed are meant to cater to different users' preferences and do not matter for nutrient values. Ensure Plus, or Ensure powder (850g), ensure liquid, Resources Plus can come in different flavours such as vanilla, strawberry, or chocolate. Resource Fruits or Fortijuce can have different fruity flavours too, such as apple, orange, peach, or raspberry blackcurrant.
Does the flavoring matter for your Nestle or Abbott milk? Flavours are usually added to make the milk-feed meals more pleasant and nicer to drink. Strawberry, Chocolate, Raspberry, or Vanilla does not really matter for most users. If you are not able to consume caffeine, please avoid coffee-flavored drinks.
Different fruit tastes for milk supplements
Similarly for fruit-based protein drinks, wildberry, orange, peach, apple, or blackcurrant does not matter except for taste. You can choose your favourite Nestle Resource Fruits or Nutricia Fortijuce based on your tastes. Again, as with all nutrient matters for patient uses, you should consult your doctors or nutritionist for more information as each of us can have a different unique situation. As for tube feeding, users would usually stick to vanilla, since there is no need for Chocolate or Strawberry flavouring.

Please do read our Disclaimer: The content of this website is provided for general informational purposes only and is not intended as, nor should it be considered a substitute for, professional medical advice. Do not use the information on this website for diagnosing or treating any medical or health condition. If you have or suspect you have a medical problem, promptly contact your professional healthcare provider.
Differences between Ensure and Ensure Plus
  Difference between Ensure Original Vanilla powder and Ensure Life, Ensure Plus, Ensure Liquid, Nutrivigor, Active M2, and Glucerna Triple Care. All of these Ensure products are from Abbott Singapore, and they are all themed "Ensure" as they are similar in nutrient value, and for the roughly same group of users. You may prefer one over another due to convenience or cost. In a simple summary for Ensure
Ensure Life (Or Ensure Original powder) in 850g is meant for daily health supplements to improve our nutrient intake
Ensure Plus (in ready-to-drink packs) are full of calories for users who are not eating well
Ensure Liquid (in tin cans) are mostly for weak users who need nutrient and meal replacement
In a simple summary for Glucerna (please check with your nutritionist or doctor)
Glucerna Triple Care powder 850g is for daily health supplements to improve nutrient intake for those who need low-sugar solution
Glucerna (in tin cans) are mostly for weak users who need nutrients in low-sugar solution
Glucerna Triple Care Packs (in ready-to-drink packs) are for users who need nutrients, not eating well, and prefer easy-to-drink cartons rather than powder form.
For a more detailed and lengthy explanation, please refer to Ensure, Ensure Life, Ensure Plus, Ensure Nutrivigor and Ensure Acti M2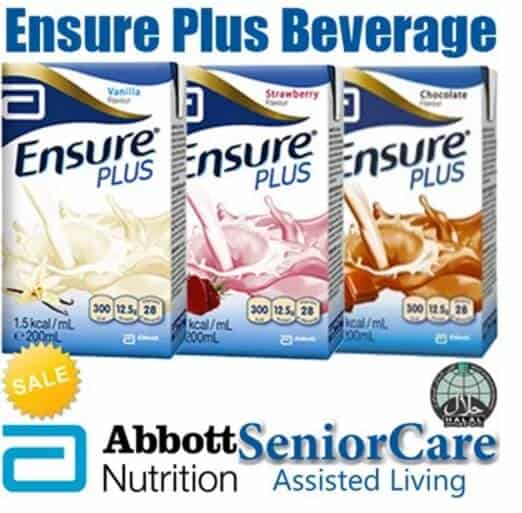 Ensure Product
Differences – Details

Ensure Powder (or Ensure Original) 850g

Basic Adult Nutrient – Value for Money

Ensure Liquid (24cans)

 

Same as Ensure Powder, but pre-mixed as a liquid in Ready-To-Drink cans

 

Ensure Life (850g)

 

Ensure Powder + Added 28 minerals/ vitamins, dual prebiotics for better digestion of nutrients added Omega-3. Low in saturated fats/ cholesterol and trans-fat free

 

Ensure Plus (27 packets)

Ensure Life + More Calories and Proteins for users facing appetite loss or weight loss. Also in Ready-To-Drink Packets

Ensure Nutrivigor (850g)

 

Ensure Life + Acti HMB extra protein to build, and maintain muscle

 

Esnure Acti M2 (850g)

Ensure Life + Brain Nutrients: Acti-SPS and Choline for Active Mind

Glucerna Triple Care (850g)

  The formula for diabetics helps in blood glucose, cholesterol,

and weight management.

 
Is Ensure Milk Halal?
Yes, Ensure milk is halal. Ensure milk for Singapore is manufactured by Abbott Laboratories is certified to be halal, by MUIS (Majlis Ugama Islam Singapura) aka Islamic Religious Council of Singapore. Ensure Original, Ensure vanilla, Ensure liquid, Ensure powder, and Ensure Plus are all halal.
Are there any Ensure Plus side effects?
There are many different ensure products out there, from Ensure Life, Plus, Gold, Milkshake, Protein, Powder, etc. There are no known side effects for any specific Ensure, but please do check with your doctor or dietician as everyone has different health status. The calorie provision from any Ensure products may not be ideal for your case, so please check with the dietician.
Is Ensure milk vegetarian?
Yes, Ensure milk is vegetarian because there is no meat inside. Only animal milk and other minerals and vitamins are used. As cow's milk is used, it is not considered vegan. Get your Milk Meal Replacement in Singapore from authorised source of Abbott Singapore
$

39.00 –

$

155.00 inc. GST

$

43.20 –

$

172.50 inc. GST
We are sorry that this post was not useful for you!
Let us improve this post!
Tell us how we can improve this post?