Fresubin Jucy 200ml – Increase Energy Needs Fat Free (Carton of 24)
$88.00 inc. GST
Juice style
High-caloric (1.5kcal/ml)
With 100% whey protein
Oral nutritional supplement
Fat and fibre free
Lactose and Gluten free
Available on backorder
Quick Response Customer Service
Replies within next working day on any issues you may have with your order.
Traceable Delivery
All orders are insured and shipped via a courier with tracking number to ensure that your orders are protected.
Secure Checkout
SSL Enabled Secure Checkout
Description
INTRODUCING
Fresubin Jucy 200ml Blackcurrant Flavour 24s
Features
– The Fresubin Refreshing Jucy Drink is 1.5kcal/ml, fat-free high protein nutritional supplement for the dietary management.
Suitable for:
– Patients who are  at risk of malnutrition
– Patients who requires energy needs and/or have fluid restriction and fat malabsorption
– Patients who cannot tolerate fibre, product is fibre-free
High-caloric (1.5kcal/ml)
With 100% whey protein
Juice style
Fat free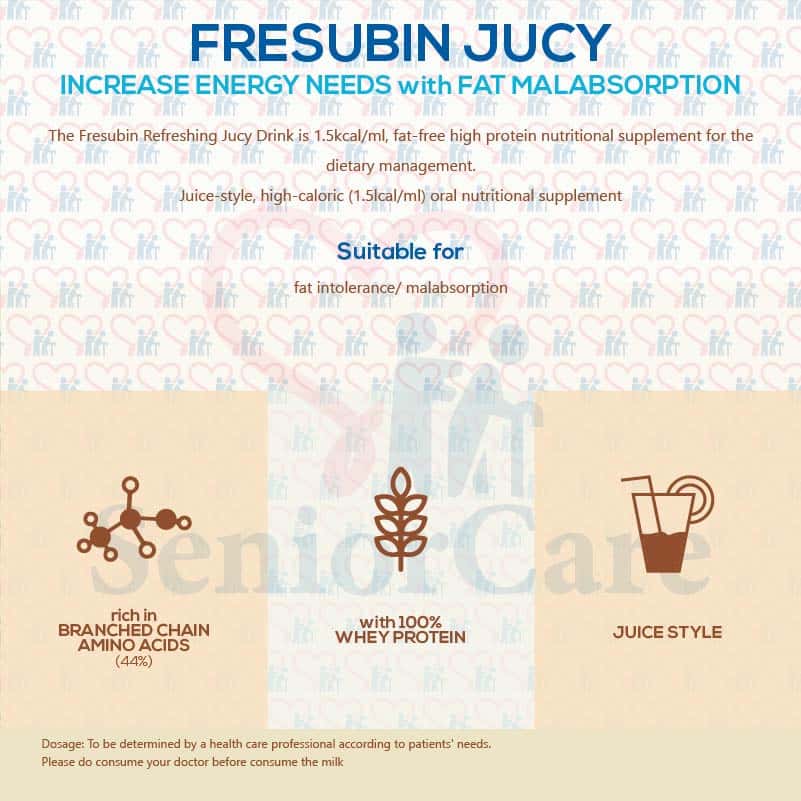 Prescribing Information
Food for special medical purposes:
Juice-style, high-caloric (1.5lcal/ml) oral nutritional supplement. Fat and fibre free ; clinically free from lactose, gluten free. For the dietary management of patients with or at risk of disease-related malnutrition in particular for patients with fat malabsorption and/or increased energy needs.
Dosage:
To be determined by a health care professional according to patients' needs. Recommendation for supplementary nutrition 2 – 3 bottles (600 – 900 Kcal)/day or complete nutrition 4 – 5 bottles (1200 – 1500 kcal)/day.
Important notes:
To be used under medical supervision, Suitable as sole source of nutrition. If used for complete nutrition consider high protein level. Not suitable for children < 3 years. Use with caution in children < 6 years. Not suitable for patients with galactosaemia, Ensure adequate fluid and electrolyte intake.
Instruction for use:
Store at room temperature. Opened bottles may be stored in a refrigerator for up to 24 hours. Shake well before use. Drink slowly! Best served chilled. Packaged in a protective atmosphere.
Contraindications:
Not suitable whenever enteral nutrition is not permitted such as in acute gastrointestinal bleeding, ileus and shock. Use with caution in severe organ failure with impaired metabolism and severe forms of malassimilation. Not suitable for patients with congenital inability to metabolise nutrients contained in Fresubin Juicy Drink
DISCLAIMER
The content of this website is provided for general informational purposes only and is not intended as, nor should it be considered a substitute for, professional medical advice. Do not use the information on this website for diagnosing or treating any medical or health condition. If you have or suspect you have a medical problem, promptly contact your professional healthcare provider
Q & A
There are no questions yet