Sale!
Ensure Life HMB Strength PRO Milk Powder 800g 850g – Vanilla, Chocolate, Strawberry, Coffee, Wheat
$39.90 – $237.50 inc. GST
Right balance of nutrients: Carbohydrates, protein, good fats, dietary fibre, 28 vitamins and minerals.
Anti-oxidant benefits: Vitamins (A, C, E), Zinc and Selenium
For strong bones: Calcium and Vitamins (D, K)
Overall digestive health: Prebiotic fibre blend (FOS and Inulin) to support growth of beneficial bacteria in the gut.
Lactose-Free: Suitable for people who are unable to tolerate cow's milk
Abbott Ensure Life Promotion
Ensure Life Singapore series
BP & Yan Mei
bought this item recently.
Quick Response Customer Service
Replies within next working day on any issues you may have with your order.
Traceable Delivery
All orders are insured and shipped via a courier with tracking number to ensure that your orders are protected.
Secure Checkout
SSL Enabled Secure Checkout
Description
Are you buying from licensed stores for your milk feeds?
Stop buying milk feeds from unlicensed sellers or parallel importers on Shopee / Lazada.
These Ensure products you purchase from other sellers may not be as prescribed as they may not come from Abbott directly!
Give your loved ones peace of mind by buying from authorized stores.
SeniorCare is an established authorized distributor of Abbott Ensure Life, Nestle, Fresubin, Omron BPM, Tena, Falcon Mobility, and other large elderly care services.
Providing the Best Nutrition for your loved ones.
Worried that your loved ones do not get sufficient nutrition through liquid food?
Worried that liquid food does not provide fiber?
Introducing Abbott Ensure Life HMB Powder 850g
Whether it is gardening, cooking, caring for your loved ones, or just climbing up the stairs, strength gives you the freedom to do what you want. New & Improved Ensure Life Singapore from Abbott now comes with a new special ingredient: HMB – with high-quality protein supporting muscle tissue building and growth.
Ensure Life Vanilla 850g is the most popular flavour for Abbott Ensure Life Singapore.
Scientifically formulated to deliver complete, balanced nutrition, this great-tasting beverage can be used as a supplement with or between meals, or as a meal replacement.
With 45 years of scientific evidence from more than 30 clinical studies, Ensure helps to strengthen your nutritional foundation so you can live life to the fullest in the years to come.
Strength – HMB and high-quality protein that supports muscle tissue building and growth
Vitality- 34 nutrients including Vitamin D, Calcium and Phosphorus, antioxidants
Activity – Cholesterol-free, trans-fat free, lactose-free, gluten-free
Prepare it right every day!
For one 230ml serving, pour 185ml of boiled water at room temperature in a glass.
Generally, add 6 levelled scoops or 60.6g of Ensure Life powder into your drink
Stir or shake thoroughly to dissolve
2 servings of Ensure Life provides 15g HMB (that you need 3000 avocados or 750 catfish fillets to obtain) plus 21g of high quality protein and Omega 3 and less sugar for your daily nutritional needs!
Ensure Life Singapore Flavours
Vanilla
Chocolate
Strawberry
Wheat
Coffee
For people who prefer plain and simple tastes, go for vanilla or wheat flavour. Vanilla is creamier. The strawberry flavor is more fruity for people who prefer a less creamy taste.
The chocolate flavour is a favourite among most people. Coffee is for those who are used to having coffee in their daily routine and would like this flavour in their nutritious drink. 
Wheat is a new flavour and is more towards simple and plain flavouring for those who like simple and uncomplex flavours.
Ensure Life promotion would make all these milk powder flavours available in 850g tin cans in Singapore.
STRAWBERRY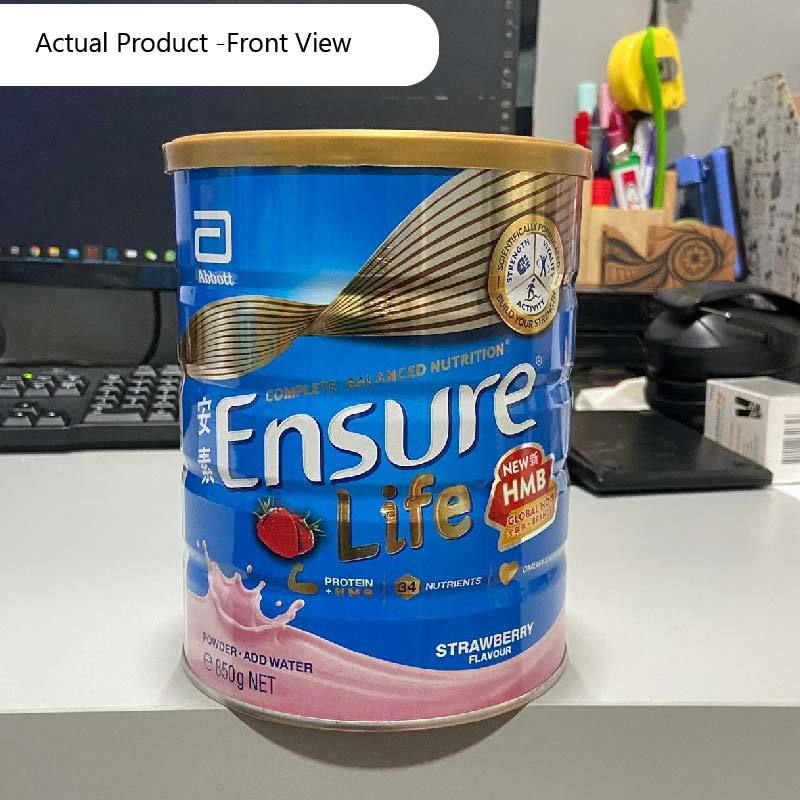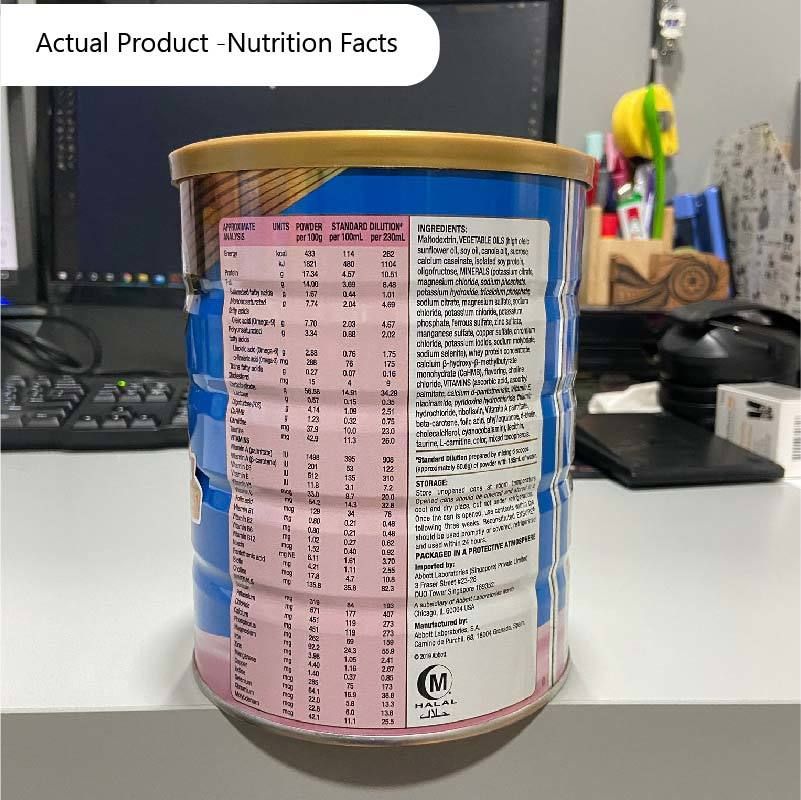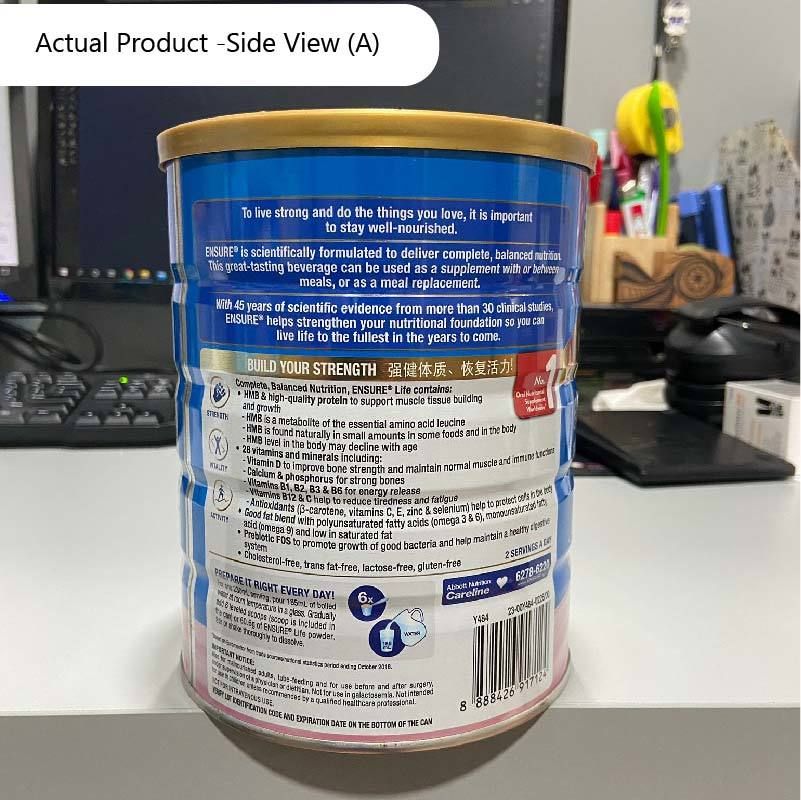 CHOCOLATE
COFFEE
WHEAT
Why you should drink Ensure Life new formulation everyday?
HMB and more high quality protein 10.5g for muscle building and growth (20% more!)
more vitamin D 310 IU for bone strength and muscle function (3 times higher)
more calcium 273mg (13% more), phosphorus 158mg (25% more) for strong bones
Omega 3, 6, 9 for good fat blend
vitamins and minerals for immunity
FOS prebiotics for health digestion
What flavours to choose for your Ensure milk?
Here is a comparison between the strawberry, vanilla and chocolate flavours of Abbott Ensure Life milk powder for 850g tin cans:
Strawberry Flavour:
The strawberry flavour offers a refreshing burst of fruity sweetness. The powder blends smoothly into a pink-hued drink with the aroma and taste of fresh strawberries. This flavour is ideal for those who prefer a fruit-based drink and enjoy the tangy taste of strawberries. It provides a pleasant change from the usual vanilla or chocolate.
Vanilla Flavour:
The vanilla flavour has a classic mild vanilla aroma and creamy taste. It results in a rich and decadent drink reminiscent of vanilla custard. This flavour is a great option for those who enjoy a smooth and creamy drink. It is a comforting and indulgent flavour suitable for everyone.
Chocolate Flavour:
The chocolate flavour delivers a delicious chocolatey taste and results in a chocolate milkshake-like drink. It satisfies chocolate cravings in a healthy nutritious way. This flavour appeals to those who love sweet and bold taste. It turns a nutritious drink into an enjoyable treat.
Coffee Flavour:
If you like a hot cup of coffee daily, Coffee flavoured Ensure are characterized by its rich, robust taste, often featuring notes of roasted nuts and a pleasant undertone. These beverages offer a convenient and satisfying way to enjoy the distinct flavours of coffee without the need for brewing or caffeine consumption.
Wheat Flavour:
This is a recent new flavour. Wheat flavoured Ensure drinks have a smooth and slightly sweet taste with subtle hints of nuttiness and earthiness, reminiscent of freshly harvested wheat. These beverages can be enjoyed as refreshing alternatives to traditional fruity or chocolate/strawberry drinks, offering a unique flavor profile that appeals to those seeking a milder and more natural taste experience.
Choose the flavour you like
In summary, the strawberry flavour offers a fruity refreshing option, the vanilla flavour provides a creamy comforting choice and the chocolate flavour satisfies chocolate cravings. Those who love their morning cuppa can try the coffee flavour, while those who prefer simple and basic flavour can try the wheat flavour.There is a flavour to suit different tastes and moods while delivering the same nutritional benefits. Choose your favourite flavour for an enjoyable drinking experience with Abbott Ensure Life milk powder.
Abbott Ensure Life Promotion for Ensure Life Singapore
The Ensure Life price at SeniorCare would be competitive and lower than most major supermarkets (NTUC, Cold Storage, Sheng Shiong, Giant etc) and NHG Pharmacies, Watson, Guardians etc.
Ensure Life promotions are also ongoing for Ensure Life milk powder Singapore to be one of the lowest price so that all customers can benefit, including free delivery so that caretakers do not need to carry them from supermarket
Disclaimer:
The content of this website is provided for general informational purposes only and is not intended as, nor should it be considered a substitute for, professional medical advice. Do not use the information on this website for diagnosing or treating any medical or health condition. If you have or suspect you have a medical problem, promptly contact your professional healthcare provider
Additional information
| | |
| --- | --- |
| Weight | 4 kg |
| Dimensions | 30 × 30 × 15 cm |
| Ensure Life HMB 850g | Vanilla, Chocolate, Strawberry, Coffee, Wheat |
| Option | 1 Tin, Bundle of 6 |
Q & A
Hi, I am seeking recommendation on nutritional milk for my dad who is a renal stage 4 patient.
Hi there,
Thank you for your inquiry. We are very sorry that we are not allowed to give any nutrition advice prior to this, as this may not be suitable for everyone. It is highly recommended to get advises from the doctor before consumption.
Thank you! :)