NOVASOURCE Renal Liquid Drink: The Right Choice to Meet Your Renal Diet Requirements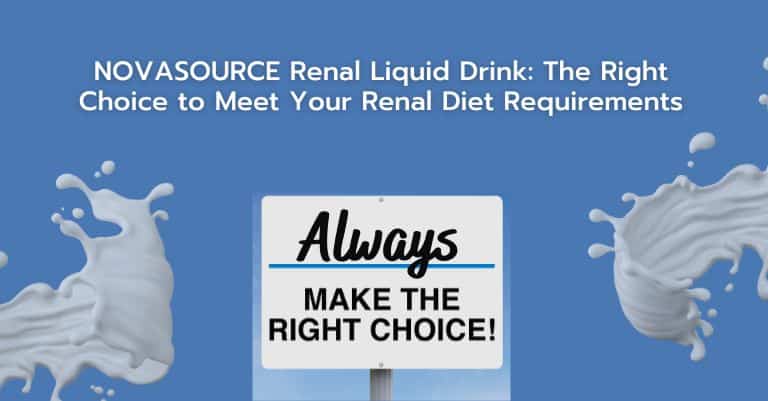 Chronic kidney disease (CKD) affects 10% of the world's population, and millions die each year because they cannot afford treatment.
Affluent countries with universal health care and substantial senior populations are home to more than 80% of renal failure patients receiving therapy.
End-stage renal disease, another name for kidney failure, is on the rise in Singapore. The NKF estimates that five new kidney failure patients are diagnosed every day, and one new dialysis patient is added every five hours.
Singaporeans afflicted with renal failure rose from 1,657 in 2013 to 1,730 in 2014.
What Causes the Kidney to Fail?
What causes renal failure? There are various reasons why a kidney may fail to function properly.
Diabetes, hypertension, and glomerulonephritis are all potential causes of kidney failure. Renal disease is more likely among people who have a history of kidney illness in their families, as well as those who are older or have a structurally deficient kidney.
A poor lifestyle may lead to kidney failure in many people. However, this is not always the case.
Kidney illness is caused by diabetes and high blood pressure, which are on the rise in Singapore.
The prevalence of diabetes and hypertension in Singaporean adults is approximately one in nine and one in four, respectively. According to the Singapore Renal Registry Annual Report 2015, diabetes-related end-stage renal failure accounted for two-thirds of dialysis patients.
The condition is lethal. Therefore, dialysis is a must for all patients with kidney failure. However, the adverse effects of dialysis are inevitable. Hence, a complete nutritional supplement is necessary.
NOVASOURCE Renal Liquid: The Renal Support Everyone Needs

There are many calories and nutrients in Novasource® Renal. It is made for people suffering from chronic kidney disease (CKD), acute kidney injury (AKI), fluid restrictions due to CKD or AKI, or electrolyte restrictions.
When a person eats a lot of protein, it is easier to keep their lean muscle mass, which is crucial during the dialysis period.
Packed with calories and arginine, yet low in potassium, phosphorus, salt, magnesium, and Vitamin D, patients on dialysis or fluid and electrolyte limitations can use this product.
Can You Drink NOVASOURCE Renal?
This drink is suitable for certain groups of people, like those who suffer from the following kidney-related diseases:
Chronic kidney disease (CKD)
Acute kidney disease (AKD)
People with fluid restrictions due to CKD or AKD or electrolyte restrictions
NOVASOURCE® Renal is also recommended for people with dietary management such as:
Gluten Intolerance
Lactose Intolerance
Congestive Heart Failure
Kidney Disease / Dialysis
Malnutrition
Renal Dysfunction
Unintentional Weight Loss
Volume Intolerance
Why Do You Need NOVASOURCE Renal?
For dialysis patients, high protein, low sodium, and lowered electrolytes (sodium, potassium, phosphorus) are essential for maintaining muscle mass, preventing fluid retention, and addressing imbalances in the heart and bones.
And to meet your dietary requirements, an oral nutritional supplement like NOVASOURCE® Renal nutritionally complete formula is recommended. Inquire about the use of NOVASOURCE® Renal with your doctor or registered dietitian.
What Can NOVASOURCE Renal Do for Your Body?
The presence of L-arginine in this supplement makes it special. You can find this amino acid in red meat, poultry, fish, and dairy. It's also found in a lot of other foods.
It is needed to make proteins and is used for blood flow. It is used to treat particular health issues in our body, such as:
Relief from chest pain: people who have angina may exercise more and have a better quality of life if they take L-arginine by mouth.
Helps manage blood pressure: taking L-arginine by mouth can lower blood pressure in healthy adults, hypertensive people, and people with or without diabetes.
Improves blood flows in the vessels: taking L-arginine orally or intravenously for eight weeks improves blood flow. A 6-month use does not improve walking pace or distance. Only a doctor can administer IV products.
Additionally, as a complete drink, NOVASOURCE® Renal helps you treat wounds by rebuilding and forging muscle tissue faster by providing enough calories and protein.
Comparing Novasource Renal vs Nepro HP.
Nutritional Distribution

NOVASOURCE® Renal

(100 ml)

Nepro HP

(100 ml)

Calories

201kcal

182kcal

Protein

9.1g

8.1g

Fat

10.0g

9.77g

Carbohydrates

18.5g

14.74g

Sugar

7.7g

3.2g

Sodium

94mg

70mg

Potassium

82mg

106mg

Traced vitamins and minerals

30

27
NOVASOURCE® Renal edges Nepro HP in protein, calories, and vitamins and minerals.
Does Novasource Renal Have Sugar?
Yes, it does. Refer to the table above to check the other ingredients that constitute the drink.
Side Effects of NOVASOURCE Renal
These are some possible side-effects of NOVASOURCE. Some adverse reactions are rare yet serious. Any of the following side effects should be reported to your doctor, especially if persistent.
Coughing
Increased bowel movements
Nausea
Thirst
Bloating
Cramps
Reduced appetite
Tiredness
Headache
Important Reminders
Nutrients in nutrition drinks vary depending on who they are aimed for. NOVASOURCE® Renal is a nutritionally complete formula designed to support dialysis patients.
Who Should Not Take NOVASOURCE Renal?
NOVASOURCE® RENAL formula is not suitable if you are not on dialysis and are on a low-protein diet to avoid dialysis in the first place.
If you are allergic to milk protein or soy protein, you should not use NOVASOURCE® Renal formula.
How Should I Store NOVASOURCE Renal Formula?
It can be kept unopened at room temperature. Don't freeze. Shake thoroughly before opening. Pull the tab to pour or insert a straw. Unused parts should be refrigerated and used within 24 hours.
When and How Often Should I Consume NOVASOURCE Renal?
This is determined by your doctor or registered dietitian. The quantity of servings per day depends on your daily fluid allowance, calorie and protein requirements. 8 fl oz has 475 calories and 22g of protein.
Thus, one serving per day is recommended but check with your doctor or Registered Dietitian.
Where to Buy NOVASOURCE® Renal in Singapore?
SeniorCare SG is the leading online healthcare provider for the elderly in Singapore, including Nestle supplement products like NOVASOURCE® Renal.
They also have supply products that meet every medical need you can think of: living and mobility aid like wheelchairs and walking sticks, home testing kits and measuring apparatuses like BPM, and other daily necessities.
The good news is that you don't have to go out, which is a relief for health care providers. Visit their website here.
We are sorry that this post was not useful for you!
Let us improve this post!
Tell us how we can improve this post?