How to Choose the Best Wet Wipes for Your Loved Ones
Updates dated Oct 2019- Comparison chart of Tena Wet Wipes, Cantley Wet Wipes, HospiCare, and Jeju Wet wipes are made for easy reference. The chart is shown at the bottom of this blog article for easy viewing. In our previous post, we talked about why toilet paper may be causing infections to your elderly loved ones. While toilet paper has always been the go-to option for cleansing your private part, more and more people are switching to adult wet wipes because of how it reduces the risk of causing harmful infections.
Important factors when choosing wet wipes
Choosing a good brand of wet wipes for your body or face is not just about the dollar and sense. You want to get value for money so here are some factors that you may like to check if the brand you like for wet wipes have for better value for money for your skin care.
Good packaging design that prevents the used wipes from contaminating the clean ones
A good package for wet wipes should have an airtight resealable tab so that leftover wet wipes are not evaporated and become unusable for cleaning. Do note that if you use your wet wipes fairly quickly, this factor may be less and less important. If you use 1 packet of wet wipes over months, then the resealable tab may help you more in your usage.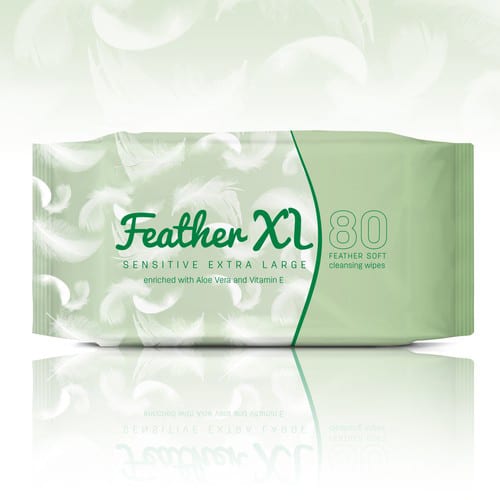 This is not the best choice for your wet wipes as they do not have any resealable tab at all and you will have to use them all up as soon as you open it.
This is also probably not the best choice, as the tab is a piece of plastic and the opening is very big, which means if you have the habit of leaving the tab open during the whole process of cleaning until you're done, this tab will be fully open during the process, which increases the chances of contamination.
Wet wipes has pH value of between 4.5-5.5 (natural pH value of human skin)
This reduces any chemical reaction that causes irritation to the human skin. If it is alkaline (or neutral): the stratum corneum (uppermost layer of the skin) is disrupted, damaging the barrier function of the skin, which translates into skin dryness and decreased antibacterial defense. A study has shown that using a skin cleanser that is basic – alkaline – like regular soap, can cause this kind of damage even after one use, and the effect is cumulative, meaning it gets worse with repeated use. These effects will of course be more pronounced in people suffering from dermatitis, people who have sensitive skin, and in the elderly, as this subgroup already has some damage going on, and their skin's ability to fight these assaults is suboptimal.
Medium or Large sheets that Covers a wide area of the skin as we are dealing with adults
We want to be using wipes that are larger per piece, so that we won't be using too many at one go and keeps the process of cleaning less messy. We are looking for wipes that are half a size to one size larger than baby wipes, which are usually about 20cm x 15cm. That would mean we are looking for something in the range of approximately 30cm by 22cm.
Ingredients do not cause any allergic reaction
Common allergens to the skin from any water-based products are parabens, imidazolidinyl urea, Quaternium-15, DMDM hydantoin, methylchloroisothiazolinone, and formaldehyde. We want to be looking out for ingredients that do not contain any of these.
One of Best Choice – TENA Wet Wipes
Moderately Sized Opening
It's opening is not too large or too small and it uses a resealable tab that is not weighted with a piece of plastic. Tena calls it the "clean touch system". If the opening is too small, it will be difficult to be pulling out wipes piece by piece, and you'll see yourself pull out multiple pieces together, which creates the opportunity for contamination or be dispensing too many for the current usage. With a resealable tab, it will leave the wet wipes half-closed while you're in the process of cleaning as well but not too inconvenient that you need to be open the tab again.
pH Value in the Natural Skin pH Range
Tena wet wipes have a pH value of 5.0, which is right in the middle of the natural skin pH range of 4.5 to 5. This allows most people to use it with minimal reaction to their skin at all.
Adequate Size of Wipes
The size we were looking for is right about 30cm to 22cm so that it is convenient for us to not use too many wipes during the process of cleaning. Tena wet wipes has a size of 29cm to 22cm per wipe which is very close to what we are looking for.
Common Allergens not found
The ingredients as listed in Tena wet wipes are Aqua, PEG-7 Cocoglycerides, PEG-40 Hydrogenated Castor Oil, Phenoxyethanol, Tetrasodium EDTA, Benzoic Acid, Glycerin, Glyceryl Oleate, Dehydroacetic Acid, Polyaminopropyl Biguanide, Ethylexylglycerin, Parfum They do not contain the allergens we mentioned earlier. It does contain Phenoxyethanol which is an allergen, however, it is generally viewed as one of the gentler commonly used preservatives and they are found naturally in green tea. Most people should not have an allergic reaction using Phenoxyethanol. However, if there is irritation on your skin, you should stop using Tena wet wipes. As for safety, Tena wet wipes fulfilled the necessary safety requirements of the Regulation No. 1223/2009 of the European Parliament. Production unit for TENA Wet Wipes also follows the international standard ISO 22716:2007. This product underwent an evaluation of dermatological control testing.
How to Use TENA Wet Wipes?
TENA Wet Wipes comes with a clean touch pack. It means you only need one hand to use it.
Open the lid and take a piece of the wet wipe. The wipe comes out already unfolded so the next wipe remains hygienic and fresh.
With the size similar to a sheet of paper, you can easily roll it over your hand and use it.
Once finished, simply close the lid and the pack is sealed.
Cantley Wet Wipes with Aloe Vera and Vitamin E- Best product sales in 2019!
After hearing feedback from customers over the years on what they desire for skin care wet wipes, we started working with a Singapore to design and manufacture Cantley Wet Wipes. Cantley Wet wipes are researched and tested in Singapore and manufactured in Vietnam to provide the best value for money.
Dermatologically tested in Singapore
Alcohol-free to prevent drying out your skin
pH 5.5 for the skin-friendly tender care
Vitamin E and Aloe Vera to moisture your skin
Aloe Vera on wet wipes is great for your skin

Soothe skin and serve as an anti-inflammatory
Scar reducing and strong healing properties
Aloe Vera has "Aloin" that protects the skin from UV damage
Aloe Vera has Vitamin A, B1, B2, B3, B5, B6, B12, C, E, Choline and Folic Acid.
Important to protect your skin from FREE RADICALS that causes signs of premature aging due to damaging effects.

Cantley Wet Wipes is a pre-moistened extra soft and strong wipe that gently cleanses restores and protects even the most delicate and fragile skin. It is mild, soap-free, pH-balanced emulsion designed to gently take care of your skin.
Comparisons of Tena, Cantley, Hospicare, Jeju Wet Wipes from Customers Reviews
Our top seller wet wipes was TENA wet wipes, so over the years, after hearing feedbacks from our customers for TENA as well as other established brands like HospiCare, Jeju brands etc, we have worked with a renowned Singapore manufacturer to produce Cantley Wet Wipes. Cantley Wet Wipes are a great alternative that is great on the skin as well as great on our pockets. Here is a chart with more information on all these different wet wipes.
You can check out Cantley Wet Wipes page for more information or you can check Tena Wet wipes for more information too. To find out more about our Wet Wipes, check out the product below.
We are sorry that this post was not useful for you!
Let us improve this post!
Tell us how we can improve this post?