Space Saving Squatty Potty Detachable Toilet Stool
$12.90 inc. GST
Detachable design for easy storage
Simple and compact, fit any bathroom & toilet
Made of durable hard Polypropylene
Easy to clean
Highly recommended to improve colon health, reduce constipation, hemorrhoids, straining and bloating
The anti-skid design of silicone in the bottom, makes the toilet stool a stable gravity center as well as safe and reliable
Wee Cheng
bought this item recently.
Quick Response Customer Service
Replies within next working day on any issues you may have with your order.
Traceable Delivery
All orders are insured and shipped via a courier with tracking number to ensure that your orders are protected.
Secure Checkout
SSL Enabled Secure Checkout
Description
Toilet Stool is a MUST HAVE in your house!
If you suffer from constipation, a toilet stool will help you strain less and empty your bowels. The squatting posture will ease constipation and prevent hemorrhoids.
INTRODUCING
HighQuality Foldable Toilet Stool
⭐ Space-saving Solution ⭐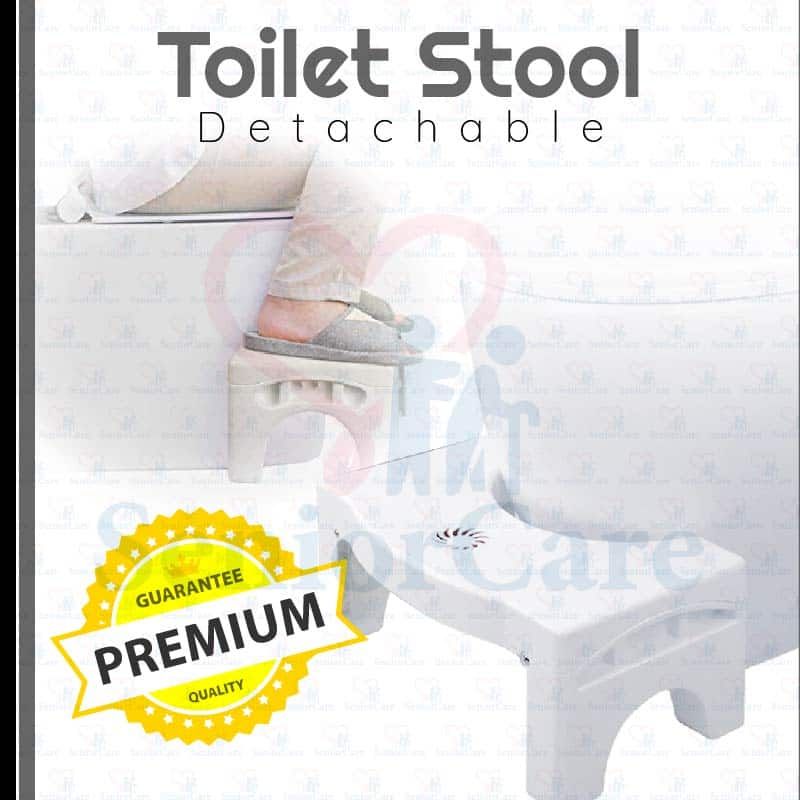 Product Features
Detachable design for easy storage
Simple and compact, fit any bathroom & toilet
Made of durable hard Polypropylene
Easy to clean
Highly recommended to improve colon health, reduce constipation, hemorrhoids, straining and bloating
The anti-skid design of silicone in the bottom, makes the toilet stool a stable gravity center as well as safe and reliable
The concept of squatting to poo is certainly not a new one,  who has been squatting for ages may be ahead of the game! Experts claim that the squatting position is more natural and can help avoid colon disease, constipation, hemorrhoids, pelvic floor issues, and similar ailments.
When we sit, this creates what is called an anorectal angle, which essentially puts a kink in the elimination process. This creates upward pressure on the rectum and makes it harder to get feces out. The upward pressure also creates the need to strain, even just slightly, to eliminate the stool.
Squatting corrects this angle and removes the kink to let elimination happen more naturally. The squat position is the natural way to achieve easier and more complete elimination.
HOW DOES THE SQUATTING STOOL WORKS?
Your body relies on a bend in the colon (where your poop lives) and the anus (where your poop says hi) to keep everything stored until ShowTime.
Your Puborectalis Muscle helps keep your poop in place by kinking your colon (like a garden hose) while you're standing or sitting. This is helpful when you are sitting and don't want to poop but unhelpful when you do want to poop. If only there was a way to tell your body to unkink that hose…
Your colon's sweet spot comes with the squat. This is the only position in which the Puborectalis Muscle fully relaxes which straightens the kink and allows for complete elimination without straining. Bombs away!
Get this squatting stool for a better experience!
Purchase Now!
Disclaimer:
The content of this website is provided for general informational purposes only and is not intended as, nor should it be considered a substitute for, professional medical advice. Do not use the information on this website for diagnosing or treating any medical or health condition. If you have or suspect you have a medical problem, promptly contact your professional healthcare provide
Q & A
There are no questions yet