Detachable Pill Box & Pill Cutter
$9.90 inc. GST
Quick Response Customer Service
Replies within next working day on any issues you may have with your order.
Traceable Delivery
All orders are insured and shipped via a courier with tracking number to ensure that your orders are protected.
Secure Checkout
SSL Enabled Secure Checkout
Description
The holiday season is coming! Do you not want to miss the dose during your journey? Get this awesome bundle and keep to your schedule with this simple pill organizer.
Introducing
Detachable Weekly Pill Organizer Box
Our detachable pill organizer will have your supplements organized 3 times a day for 1 week ahead with a back-up compartment each day for your extra supplement or pill. You will be able to see if you took your supplements/pills or not without opening a compartment because this pills organizer is translucent. You can open and close each compartment by simply snapping; this keeps your supplements safe and prevents them from falling out.
Contoured design for easy pill removal
Divide pills into Morning, Noon, Night and Back-up with single day compartments
Great reminder for elderly, seniors and all ages.
7 vivid colors help distinguish days of the week
Compact in size, portable, MUST HAVE for your travel
Splitting Pills?
Due to rising prescription drug prices, and large pills, most people are turning to split their pills to save on medication and make large pills easier to swallow for patients with difficulties
But it can be a daunting task. Make it easier with this simple device.
Introducing Compact Tablet Cutter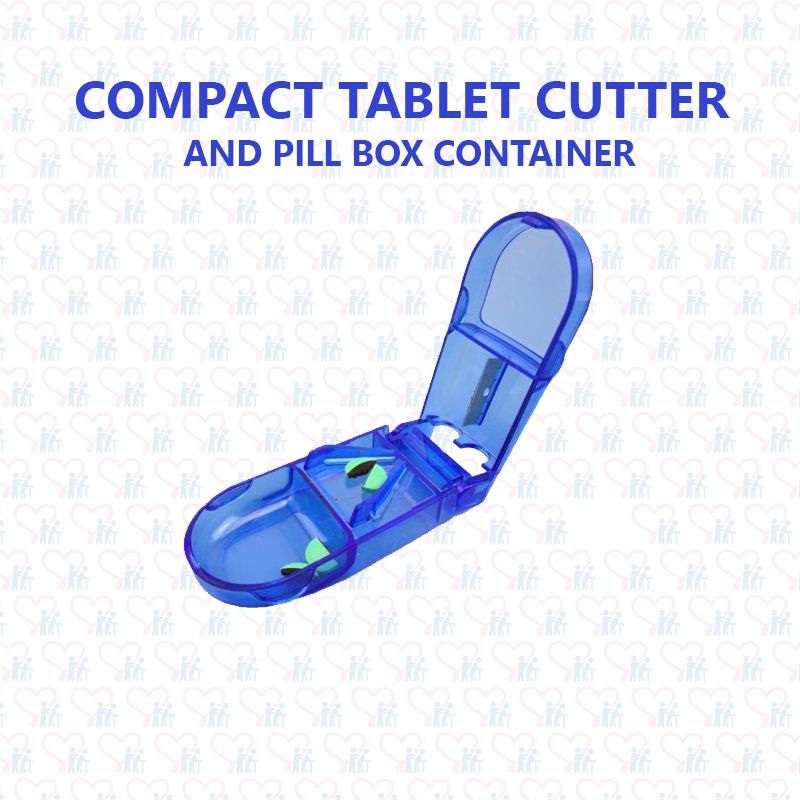 This nifty little device is designed to accurately split pills in half so you can use it for splitting the medicine without any worries. It might not exactly be versatile but it's really useful if you take a lot of medications and want to take the practical route.
Features

Stainless steel blade cuts pills in half for easier swallowing or smaller doses
The casing includes a small container to store pills for later consumption
Transparent casing allows precise cutting
As the saying goes, simplicity is beauty. This proves true for simple tools like pill splitters as you need them to be uncomplicated to help you easily carry out the task of cutting your medication in half. The pill cutter perfectly suits this description with its very simple design.
It has a cutting platform of sorts that sits near where the lid is attached. It has a triangular pill guide that is meant to hold your pills in place while you cut it. Lasst is the lid where the stainless steel blade is placed.
With its design, all you really need to do to cut your pills in half is to place the pill on the platform then close the lid. It's important to ensure that the pill is aligned before you close the lid, however, to be certain that your cut is accurate.
Made of sturdy plastic, this pill cutter is also lightweight and easy to clean.
Purchase Now!
Disclaimer:
The content of this website is provided for general informational purposes only and is not intended as, nor should it be considered a substitute for, professional medical advice. Do not use the information on this website for diagnosing or treating any medical or health condition. If you have or suspect you have a medical problem, promptly contact your professional healthcare provider
Additional information
| | |
| --- | --- |
| Weight | 0.1 kg |
| Dimensions | 6 × 6 × 5 cm |
Questions and answers of the customers
There are no questions yet. Be the first to ask a question about this product.