High Quality Detachable 7 Days Pill Box Organizer
$8.95 – $20.95 inc. GST
– Contoured design for easy pill removal
 Divide pills into Morning, Noon, Night and Back-up with single day compartments

Great reminder for elderly, seniors and all ages.

7 vivid colors help distinguish days of the week

Compact in size, portable, MUST HAVE for your travel
Quick Response Customer Service
Replies within next working day on any issues you may have with your order.
Traceable Delivery
All orders are insured and shipped via a courier with tracking number to ensure that your orders are protected.
Secure Checkout
SSL Enabled Secure Checkout
Description
Forgetting Your Pills?
Taking your medication is an important process on the journey to recovery.
However, it can be tedious to keep to your medication schedule, especially for elderlies who are forgetful.
Keep to your schedule with this simple organizer.
Introducing
7 Days Pillbox Organizer
Our detachable pill organizer will have your supplements organized 3 times a day for 1 week ahead with a back-up compartment each day for your extra supplement or pill. You will be able to see if you took your supplements/pills or not without opening a compartment because this pills organizer is translucent. You can open and close each compartment by simply snapping; this keeps your supplements safe and prevents them from falling out.
Product Features
Contoured design for easy pill removal
Divide pills into Morning, Noon, Night and Back-up with single day compartments
Great reminder for elderly, seniors and all ages.
7 vivid colors help distinguish days of the week
Compact in size, portable, MUST HAVE for your travel
A MUST FOR EVERYONE:
Looking for a practical and effective way of ensuring that your loved ones never forget essential medication and treatment? Tired of constantly forgetting to take your vitamins or supplements? This medicine organizer is the perfect solution!
PREMIUM QUALITY & DURABLE:
This daily pill organizer is made with superior quality, highly durable non-toxic plastic, and a non-BPA material that is food-grade, easy to clean, and guaranteed to withstand the test of time!
OPTIMAL PROTECTION:
Keep your capsules, tablets or softgels safe from liquid spills, dust, dirt or unwanted contact, with this pill container which features fully airtight, providing enhanced protection and prolonged freshness!
EASY MANAGEMENT:
With a bright, colour-coded design for every day of the week, three individual day dispensers and day of the week stickers, this pill box 7 day makes pill management a breeze for everyone! Make sure your loved ones never forget their medication, treatment or supplements with this simple pill holder!
CONVENIENT & PRACTICAL:
Unlike similar products on the market, our pill dispenser organizer has a lightweight, travel-friendly design, easy to use and compact, fitting into purses, backpacks, or luggage. The individual boxes have a large capacity, fitting up to 20 tablets, depending on size and shape.
Splitting Pills?
Due to rising prescription drug prices, and large pills, most people are turning to split their pills to save on medication and make large pills easier to swallow for patients with difficulties
But it can be a daunting task. Make it easier with this simple device.
Introducing Compact Tablet Cutter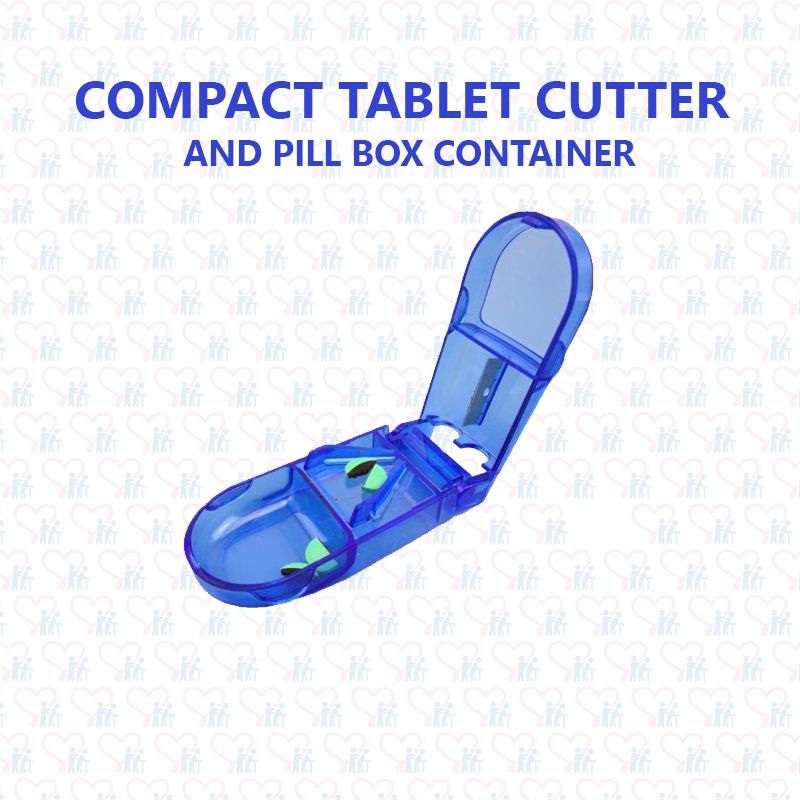 This nifty little device is designed to accurately split pills in half so you can use it for splitting the medicine without any worries. It might not exactly be versatile but it's really useful if you take a lot of medications and want to take the practical route.
Features

Stainless steel blade cuts pills in half for easier swallowing or smaller doses
The casing includes a small container to store pills for later consumption
Transparent casing allows precise cutting
As the saying goes, simplicity is beauty. This proves true for simple tools like pill splitters as you need them to be uncomplicated to help you easily carry out the task of cutting your medication in half. The pill cutter perfectly suits this description with its very simple design.
It has a cutting platform of sorts that sits near where the lid is attached. It has a triangular pill guide that is meant to hold your pills in place while you cut it. Lasst is the lid where the stainless steel blade is placed.
With its design, all you really need to do to cut your pills in half is to place the pill on the platform then close the lid. It's important to ensure that the pill is aligned before you close the lid, however, to be certain that your cut is accurate.
Made of sturdy plastic, this pill cutter is also lightweight and easy to clean.
Clipping Nails for Your Loved Ones?
Whenever we clip nails for others, we are not the best judge of how to clip it without hurting them.
To prevent injuries from nail clipping
Introducing
Magnifying Nail Clipper
Features
Magnifier with nail clipper.

A must have for new parents or caregivers

Helps you safely trim babies' or elderlies' nails.

Material : ABS Plastic and stainless steel.

Size : 9.3 X 3.1 CM

CLEAR VIEW
The nail clipper comes with a 2X magnifying glass for a clear and natural view to reduce eyestrain. A movable magnifier is perfect for seeing those tiny nails with much greater clarity.
180-DEGREE ADJUSTABLE
The angle and position of the magnifying glass can be adjusted to fit different needs. Fine shape intelligent observation of high quality.
SAFE TO USE
This nail trimmer allows the elderly to cut finger and toenail by themselves. It's easier to see the nail as you clip for accurate, safe results every time.
180-DEGREE ADJUSTABLE
The angle and position of the magnifying glass can be adjusted to fit different needs. Fine shape intelligent observation of high quality.
LIGHTWEIGHT & PORTABLE
This nail cutter has been developed for various nail types such as men, women, girls, boys, seniors, the elderly and babies. It is easy to store away.
Magnifying Nail Clipper Fingernail Toe Nailclipper
Purchase Now!
Disclaimer:
The content of this website is provided for general informational purposes only and is not intended as, nor should it be considered a substitute for, professional medical advice. Do not use the information on this website for diagnosing or treating any medical or health condition. If you have or suspect you have a medical problem, promptly contact your professional healthcare provider
Additional information
| | |
| --- | --- |
| Weight | 0.1 kg |
| Dimensions | 6 × 6 × 5 cm |
| Add-On | ONLY 7 Days Pill Box, Pill Cutter, Magnifier Nail Clipper, Pill Cutter & Clipper |
Q & A
There are no questions yet