Crutch and Cane Holder
$80.00 inc. GST
Easy to install
Fits all Drive Medical Power Chairs and Scooters
Includes hook-and-loop-fasteners to keep your mobility aid safely in place
Keep your crutches or cane with you when you travel on your scooter or wheelchair
Sturdy steel construction
Out of stock
Quick Response Customer Service
Replies within next working day on any issues you may have with your order.
Traceable Delivery
All orders are insured and shipped via a courier with tracking number to ensure that your orders are protected.
Secure Checkout
SSL Enabled Secure Checkout
Description
Crutch & Cane Holder is a great way to transport your cane or crutches with you on a
power wheelchair or scooter.
The hook-and-loop fasteners assure that your cane or crutch will go where you do, keeping it securely in place when you use the Crutch Cane Holder.
Keep your crutches or cane with you when you travel on your scooter or wheelchair with a handy steel carrier that mounts simply to the rear of your product's seat frame and offers hook-and-loop-fasteners to keep your mobility aid safely in place.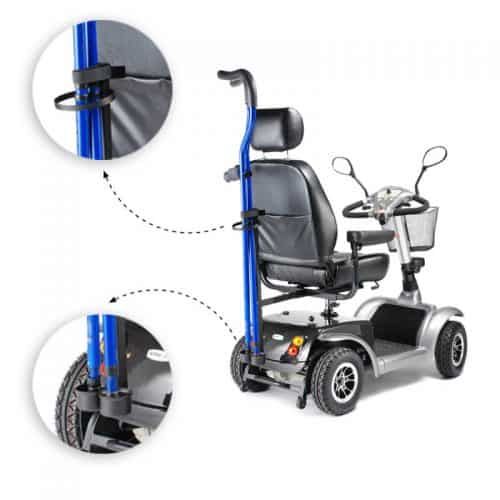 Features:
Easy to install
Fits all Drive Medical Power Chairs and Scooters
Includes hook-and-loop-fasteners to keep your mobility aid safely in place
Keep your crutches or cane with you when you travel on your scooter or wheelchair
Sturdy steel construction
Q & A
There are no questions yet