Bed Caddie
$39.00 inc. GST
3 hand grip ladder-like design makes sitting up easy
Attaches to any bed frame
Sturdy nylon construction
Provides long lasting safety
Adjustable, customisable length to fit your preference
Ergonomic cushioned non-slip rubber contour grip
Installs and removes in seconds, no tools required
Quick Response Customer Service
Replies within next working day on any issues you may have with your order.
Traceable Delivery
All orders are insured and shipped via a courier with tracking number to ensure that your orders are protected.
Secure Checkout
SSL Enabled Secure Checkout
Description
Need Help Getting Out of Bed?
Introducing:
Stander Bed Caddie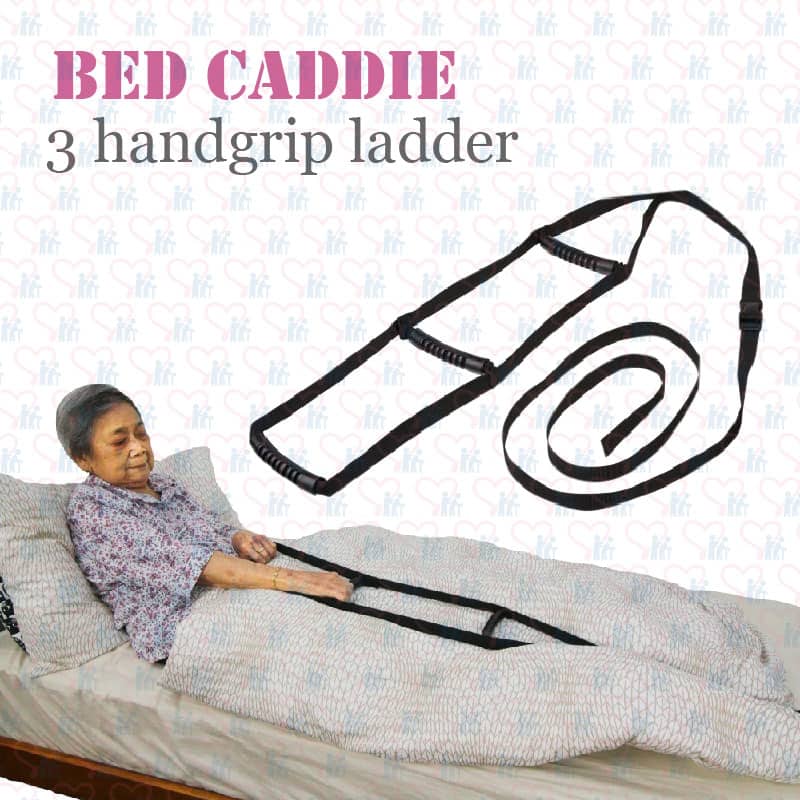 Bed Caddie
The Bed Caddie has a unique ladder-like design with 3 hand grips to make it easier to sit up in bed.
It is great for people who want a little extra support while sitting up and can be used with our bed rails to help you easily get out of bed.
Features:
Adjustable length: Customize the length of the bed ladder from 48″ to 84″ tailoring the BedCaddie to your individual needs.
Ladder Grips: The three 5″ wide hand grips are evenly spaced out every 12″ and provide a ladder-like system to pull yourself up.
Strong: The quality nylon strap is reinforced with durably sewn seams and can safely support up to 136kg (300 lbs).
Compatibility: The BedCaddie easily buckles around the footboard of any bedframe, no tools are required.
Sit Up Easily: The ladder grips allow users to incrementally rise into an upright, seated position; provide improved in-bed mobility for those who experience a limited range of motion.
Travel Friendly: The universal design makes it possible to carry the lightweight and low-profile BedCaddie and use it on any bed while traveling.
Tool-Free Installation: The BedCaddie can be added to your bed in seconds by buckling the caddie to the bed frame at the foot of the bed.
Extra Support: The BedCaddie pairs well with any bed rail for extra support in and out of bed for those who have back pain, are recovering from surgery, or are pregnant.
Specifications:

Bed Caddie Product Specifications

Easy Assembly (No Tools Required)
Q & A
There are no questions yet