TENA Lady Pads Sanitary Napkin Towels
The Body Shaped DRYZone fits the body for excellent absorption and discretion
Fresh Odour Control helps prevent unwanted odour
The soft side elastic shapes the pad for a close fit
Quick Response Customer Service
Replies within next working day on any issues you may have with your order.
Traceable Delivery
All orders are insured and shipped via a courier with tracking number to ensure that your orders are protected.
Secure Checkout
SSL Enabled Secure Checkout
Description
 Providing the Discreet You Need
Whether it is your loved ones or yourself, we understand the need to be discreet.
Have you ever experienced situations where going to the washroom is not a solution?
Or that your loved ones who are physically unable to control their bowel movement or go to the washroom?
Urinary incontinence is more common than many people think. In fact, among women over 50, one in three experience bladder weakness and the leaks that go with it. So if it happens to you, you're far from alone. 

Many people use regular sanitary pads to deal with incontinence. That's unfortunate because there's a big difference between blood and urine, which means sanitary pads for incontinence isn't adequate. The menstrual charge is heavier and comes out more slowly, while urine is more fluid and comes out in larger quantities, which means that a more rapid absorbency is needed. 

TENA Lady are developed specifically to tackle the unique properties of urine. They absorb leaks at an impressive speed, pull moisture away from the body and trap the odor inside of the core. And unlike some of the feminine hygiene products that contain deodorants, the pH absorbent materials do more than just mask the odor – they help neutralize it.
Introducing Tena Lady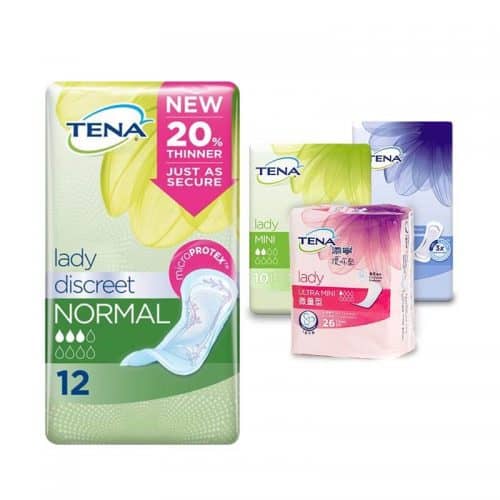 Tena Lady Pads Ultra Mini
Tena Lady Pads Mini
Tena Lady Pads Extra
Features
TENA Lady Extra with Body Shaped DRYZone gives TRIPLE PROTECTION from leaks, odor and moisture. TENA Lady Extra is just as discreet as a sanitary towel but much more absorbent, so the individual will feel instantly dry and comfortable
The Body Shaped DRYZone fits the body for excellent absorption and discretion
Fresh Odour Control helps prevent unwanted odor
The soft side elastic shapes the pad for a close fit
Tena Lady Pads Discreet Normal
Dermatologically tested
All materials in the product are dermatologically tested to be safe and kind to the skin.
Extra gentle and dry Silky Soft Surface against the skin
Dryness is important for feeling fresh and protecting the skin. That is why TENA Lady pads have a Silky Soft textile-like surface that instantly whisks away any moisture from the skin. TENA Lady pads keep your loved one feeling dry and confident.
Individually wrapped for convenience
Every TENA Lady pad is individually wrapped which means that they can be discretely carried and conveniently disposed of.
The soft textile breathable outer material helps maintain healthy skin
TENA Lady has soft, breathable material that allows air to circulate, preventing dampness and promoting skin health. TENA Lady keeps your loved one feeling fresh.
Disclaimer:
The content of this website is provided for general informational purposes only and is not intended as, nor should it be considered a substitute for, professional medical advice. Do not use the information on this website for diagnosing or treating any medical or health condition. If you have or suspect you have a medical problem, promptly contact your professional healthcare provider
Purchase Now!
Additional information
| | |
| --- | --- |
| Weight | 0.2 kg |
| Product Range | TENA Lady Ultra Mini, TENA Lady Normal, TENA Lady Extra |
| Type | Unit, Carton |
Q & A
There are no questions yet