Washable Incontinence Reusable Underpad
$12.95 – $24.95 inc. GST
Absorbent, breathable and waterproof
Provides protection against dust mites, allergens and bed bugs
Machine washable and dryable for convenient care
Better for the environment than disposable bed pads (such as TENA underpads)
Angela
bought this item recently.
Quick Response Customer Service
Replies within next working day on any issues you may have with your order.
Traceable Delivery
All orders are insured and shipped via a courier with tracking number to ensure that your orders are protected.
Secure Checkout
SSL Enabled Secure Checkout
Description
Providing the Discreet You Need
Whether it is your loved ones or yourself, we understand the need to be discreet.
Waking up each day to your loved one's wet bed can be both physically and emotionally draining. No one likes to wash and change sheets each day, and knowing the discomfort (and likely embarrassment) that your loved one feels can be disheartening.
Apart from that, it also costs money and time to get the bed back in shape.
Disposable bed pads like TENA underpads are expensive to keep throwing.
INTRODUCING
Reusable and Washable Waterproof Bedpad Underpad
Changing soiled bedsheets can seem like a never-ending task for family caregivers. Elderly parents with incontinence problems who don't want to wear diapers to bed or who tend to move in ways that cause diapers to leak.
Instead of using disposable TENA underpads or other branded underpads, it may be more environmentally friendly as well as better on cost savings to save money to use reusable underpads.
Thankfully, the waterproof bed pad underpad for adults is now available on our web store!
The effects of a weak bladder can be controlled to a great extent. You only have to replace and wash the waterproof mattress cover instead of replacing the whole mattress.
Incontinence bed pad comes in handy both on a bed as well as a chair or couch. It's always a good idea to have a number of bed pads on hand.
Depending on how often they need to be changed – it may be a good idea to have at least 2 so you do not have to wash them every day.
Prevent Bacteria
Makes clean-up easier
Two pads keep accidents at bay

Product Features:
Absorbent, breathable, and waterproof

Provides protection against dust mites, allergens and bed bugs

Machine washable and dryable for convenient care

Better for the environment than disposable bed pads
It's important to be waterproof!
Having the right tools will do wonders to help keep the bed dry and your loved one comfortable. Our waterproof underpad comes with 4 absorbing layers to ensure that your mattress always stays dry and also comfortable.
The soft top layer makes the user feels carefree while using the underpad, the absorbent cotton layer helps to absorb liquid in no time, both of the layers do keep the user feel dry and comfortable even if leaking. Then, the TPU composite layer helps keep any leaks to a minimum and makes cleaning up so much easier.
Machine washable
Washable is one of the features of this underpad. It can be easily washed in the washing machine, this is not only less stressful for the caregiver but saves you money at the same time.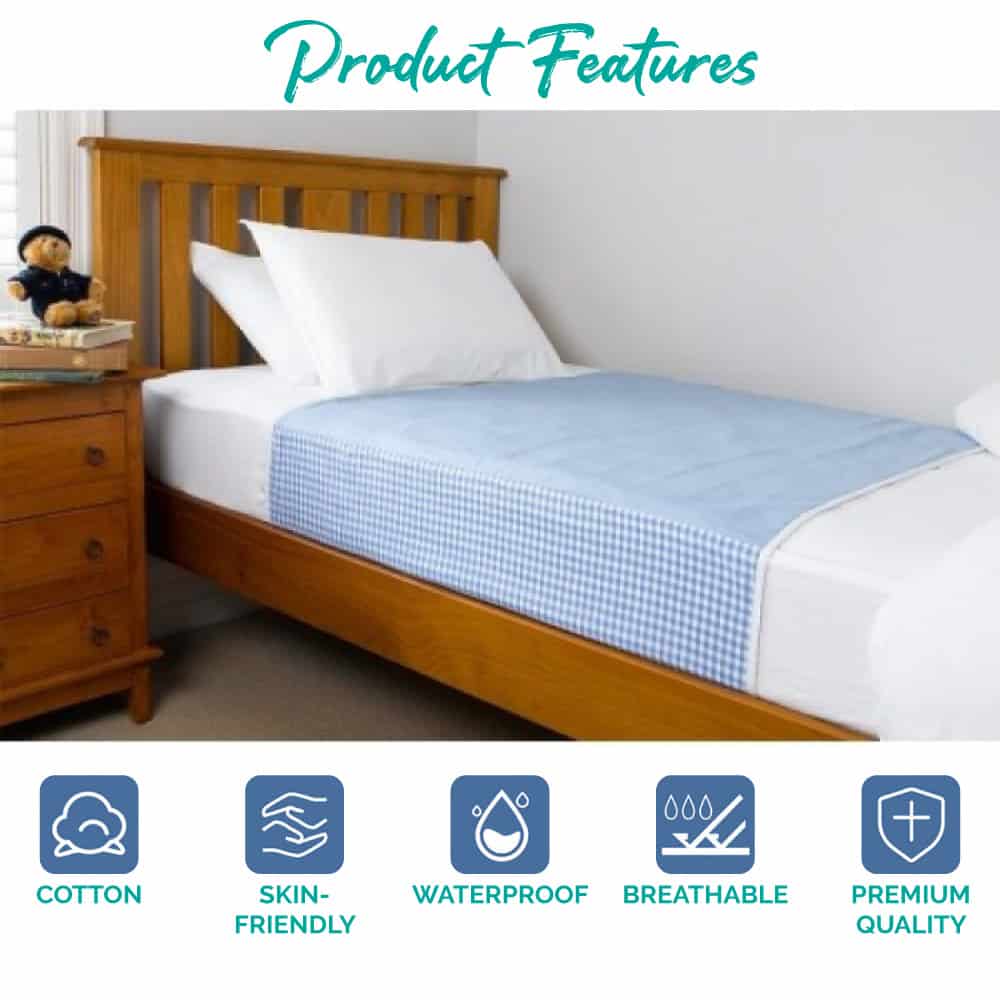 Here are some tips for keeping the bed dry
 Waterproof Bedsheet Protector– go on to the bed before underpad, double protection to keep any moisture from getting on the mattress.
Disposable Underpad– if you have a limited quantity of reusable underpads, or you don't want to wash the underpad every day, you may need a disposable underpad. Use it on the top of the reusable pad, simply toss in the trash when needed.
Purchase Now!
Disclaimer:
The content of this website is provided for general informational purposes only and is not intended as, nor should it be considered a substitute for, professional medical advice. Do not use the information on this website for diagnosing or treating any medical or health condition. If you have or suspect you have a medical problem, promptly contact your professional healthcare provider
Additional information
| | |
| --- | --- |
| Weight | 0.15 kg |
| Dimensions | N/A |
| Reusable Underpad | Yellow 50x60cm, Blue 70x90cm, Brown 90x120cm |
Q & A
There are no questions yet